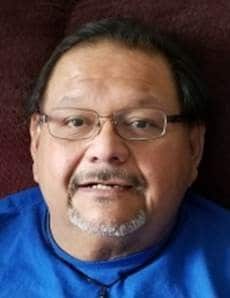 Travis J. Russ (Peters), age 52, of Appleton, was born to eternal life on March 25, 2020. He was born on April 25, 1967 and was the son of Finley and Pearl (Denny) Peters. Travis was adopted at a young age by Edwin Russ and Evelyn (Schael) Russ.
Travis was known for his deep love for God. His greatest wish was for everyone to know the great joy and peace that comes from a personal relationship with Jesus. He was always encouraging others and often prayed with and for them. He was passionate about God's Word and loved sharing it with others to help them find direction and comfort. Travis was a truly selfless person and because of his great love, he was always willing to give and help people with whatever they needed. Travis loved the outdoors and admired God's creation. Travis enjoyed driving for Kruepke Trucking, he loved the family atmosphere.
Travis is survived by his loving wife Brenda (Leder) Russ and their fur babies, Nova, Bella, and Pan-Pan. Travis and Brenda were married July 7, 2007. He is survived by many brothers and sisters from both his birth and adopted families, and by nieces and nephews. He is also survived by Brenda's parents, John and Phyllis Leder, Brenda's brother Carl (Trudi) Leder, and her niece and nephew Katie and Luke Leder. Travis loved them all.
He was preceded in death by his parents and a number of his brothers and sisters.
A Celebration of Travis' life will be held at Crossroads Foursquare Church in Menasha WI on June 20, 2020. Service will be at 1pm, but friends and family are invited to visit from 11am to the time of service. Please check the website for any changes due to possible travel restrictions. Please do not wear all black; we are not mourning the passing of Travis. We are celebrating him being called to eternal life and allowing himself to be used as God's vessel while he was here with us on earth.
Travis would want you to remember, "I have called you by your name; you are mine. When you pass through the waters, I will be with you; and through the rivers, they shall not overflow you." Isaiah 43:2.
I will remember Travis most for his Love for God. During the last few days, I have felt an overwhelming presence of God in my life. He has protected and guided me every step of the way. He has given me great peace, and reminds me that Travis' life may have been cut short, but that he did so many great things for God during that time.
I have so many fond memories of Travis after being together for 27 years. Travis was a wonderful husband with a great sense of humor. I always called him TJ. Our song was "Love of a Lifetime" by Firehouse. We did practically everything together. He helped me to perfect my driving skills and we went on many camping trips. My Mom enjoyed camping as well and often came with us. He always referred to my mom as "Mom," never as Phyllis. One of our favorite trips was to Yellowstone on our honeymoon. He enjoyed learning about his culture and Native American lifestyle, and taught me to make many Native American crafts. When speaking to a dear friend about Travis, she told me that she always thought of Travis as kind, loving, caring, and generous.
~Brenda