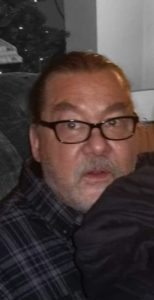 Brian P. Gregor age 58 of Oshkosh passed away on Saturday March 28th, 2020. Born in Milwaukee Wisconsin on July 9th, 1961 to the Late Gary and Rosemary (Wilber) Gregor. He married his lifelong partner of 35 years, Lisa Odehnal Gregor on July 2, 2018. Brian was a good-hearted man with a great sense of humor. He enjoyed spending time with his grandchildren and family; an occasional trip to a casino, a day of fishing or a funny prank on someone brought a smile to his face.
He often spoke to his children, nephews and nieces about the importance of family; " We are Family! Family shouldn't be fighting.  We fight for one another, we don't fight with each other." He was an Uncle who treated his nephews and nieces like his own children.
He is survived by his wife Lisa: children Josh Lacey, Jason Lacey, Brian Gregor, and Shawna Gregor. He had fourteen grandchildren: Elana, Ayden, Leon, Alyssa, Josslyn, Johanna, Aireanna, Jordan, Kinsley, Gemma, Holden, Noah, Liam, Jayse and Isabella. Siblings: Loriann (Patrick) Young, Cheryl (Todd) Wohlfeil, Steven Gregor, Gary Odehnal, David Odehnal and Dawn (Anthony) Harriell. Mother: Rosemary Gregor and Mother-in-law: Gloria Odehnal and many nephews, nieces, and lifelong friends. He will sadly be missed by all who knew him. Brian is preceded in death by his father Gary P. Gregor and father in law Frank Odehnal.
Funeral arrangements will be made at a later date.