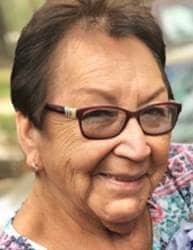 Donna Marie Richmond, "Wachuwin" meaning "Sparkling Waters," 73, Green Bay, passed away unexpectedly surrounded by her loved ones on March 19, 2020. She is now in the loving arms of her Dad and her loved ones who went before her.
Donna was born on March 20, 1946. Donna attended St. Joseph's School in Keshena,  and spent her career as an Administrative Assistant for the Oneida Nation. She worked for various departments throughout the years and most recently, the Department of Public Works.
She enjoyed casino and bingo trips with the gals. She was a diehard Packers fan, and she was an avid fan of her grandchildren and great-grandchildren's sports activities.
Donna loved traveling to Pow-Wows and cooking out with the family. She used to play softball and golf, and currently bowled in the "Dirty Swingers" bowling league. "Team Oneida" ended the season in 1st Place, which she was super excited about.
She convinced her grandkids and great-grandkids that Elvis was their grandpa until they found out otherwise. There are no words to describe how much she will be missed.
Donna is survived by her children, Kalene M. White (Demetrius), Lennette R. White, Michelle L. White-Denny (Brian) and Leon "Kokomoss" V. White Jr. (Tina). She is further survived by her 24 grandchildren and 24 great-grandchildren; as well as her siblings and siblings-in-law, Janet (Wayne) Martin, Jeannie Richmond, Maudie King, Daniel King, Georgiana King and Stevie (Julie) King.
She was preceded in death by her mom and dad, Calvin and Jeannette Richmond, her mother Alberta King, brothers Ducky Richmond and Bruce King, as well as the father of her children, Leon V. White Sr.
Private services were held for the family. A Celebration of Life will be held at a later date.
The family wishes to extend special thanks to Dr. Subbarian and the nursing staff on the 7th Floor of St. Vincent Hospital.