Kali photo/Christopher Johnson
Oneida Nation Chairman Tehassi Hill (right) and Oneida Gaming General Manager Louise Cornelius (left) address the media during a press conference March 17 at the Oneida Casino. Hill and Cornelius announced the unprecedented closure of all Oneida Gaming facilities to the public beginning March 21. The closure will be in place for at least two weeks.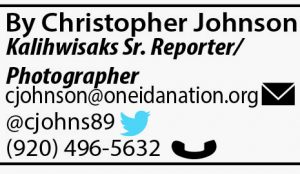 Oneida Nation officials held a press conference Tuesday, March 17, to announce the unprecedented closure of all gaming facilities on the Oneida Nation reservation. The closure will take effect Saturday, March 21, at 11:59 p.m. and last for no less than two weeks.
"COVID-19 is unprecedented in modern history," Oneida Nation Chairman Tehassi Hill said. "Oneida has faced similar situations in our history, and we are here today because of the resiliency our people have carried with them. The Oneida Nation, like other governments, have been implementing closures and restrictions across our reservation in attempts to flatten the curve of COVID-19."
Hill addressed the steps the Oneida Business Committee (OBC) has taken in recent weeks to help protect tribal members and the general public at large. "March 12, we made the decision to cancel our General Tribal Council meetings which was noticed to our membership," Hill said. "These are meetings of enrolled Oneida that typically have about 1,700 members present, and we also began restricting business travel.
"On March 13 Oneida declared a State of Public Health Emergency," Hill said. "Since that time we've implemented many other restrictions and closures. Our schools and head starts have closed, our nursing home and congregate care meal site, and transit, have all implemented emergency restrictions. We've had many community events canceled as well and our community has experienced the same affects as everyone else in the surrounding communities and states."
The Nation has taken measures to ensure employees still receive a paycheck during the closure. "Oneida has taken emergency action to keep our employees on paid time off where necessary," Hill said. "We have also implemented initiatives to work off-site and most importantly social distancing, washing hands and making sanitizers available throughout our public facilities."
It would take hours to go over all that the OBC has done and what they still plan to do, Hill said. "We are inspired by our neighboring governments and the State of Wisconsin who are working with us through this State of Public Health Emergency," Hill said. "Today we are here to announce our casino will be closing. The Oneida Nation, in collaboration with the other 11 tribes in Wisconsin, are choosing to close our casino for 14 days."
"At 11:59 p.m. on Saturday, March 21, we will close our doors to the public," Oneida Nation Gaming General Manager Louise Cornelius said. "This will give us time to meet with our employees and take care of the necessary closure procedures. Oneida Gaming revenues provides our community with the funds for critical services and programs as well as meeting the vital needs of our people."
It was an extremely difficult decision to entertain the thought of closing the casino, Cornelius said. "The health and safety of our employees, customers, and the greater Oneida community is our first priority," Cornelius said. "Oneida Casino has strict oversight, regulation, and reporting accountability per our gaming compact with the State of Wisconsin. We have a very complex operation. Preparation for closing multiple properties takes tremendous cooperation and collaboration from our Gaming Department. Our decision to reopen our doors will be dictated by many conditions and assessments of the general public health in Wisconsin."
"We are continuing to pay our employees that are now unable to work," Hill said. "So, we are making sure the health and safety of the community is paramount. Our family values are very strong here as we wish to make sure the hardships that could happen from this closure are mitigated to best of our abilities by ensuring our employees continue to be paid their regular wages."
One Response to Oneida officials hold press conference to announce unprecedented casino closure
Lisa Fletcher says: March 18, 2020 at 6:20 am

Are You going to help Your Oneida Enrolled Members Thru this Crisis?