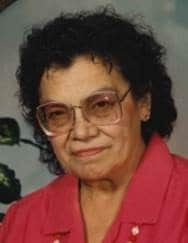 Betty Jane Doxtator, 93, passed away Friday, March 13, 2020, at the Anna John Resident Centered Care Community, Oneida. She was born Feb. 1, 1927 on the Oneida Nation Reservation. She was the daughter of Celinda J. Doxtator and Bernard Bjerkvold.
Betty married Leo "Chicken" Doxtator on July 10, 1942 at St. Joseph's Catholic Church in Oneida. Betty and Leo had 14 children.
She is survived by 12 children: Sandra (Mike) Brehmer, Florida; Gloria (Ted) Hawk, Oneida; Deacon Bobby (Margaret) Doxtator, Oneida; Cleo (the late David) Ginsburg, Milwaukee; Carol (Bruce) VandeKamp, Oneida; Nancy (Greg) Powless, Oneida; Mike (Diane) Doxtator, Oneida; Allan Doxtator, Oneida; Jeffrey (Michelle) Doxtator, Oneida; Gerald Doxtator, Oneida; Dale Doxtator, Oneida; Michelle Doxtator, Oneida; 43 grandchildren; 57 great-grandchildren; 3 great-great grandchildren; special grandson, Dakota Tepiew; two sisters, Evelyn (Leroy) Ming, Kansas; and Donna Bjerkvold; and many nieces and nephews.
She was preceded in death by her husband Leo; her mother and step-father, Celinda and Donald Barrett, and her father, Bernard Bjerkvold; son, Gary Doxtator; infant daughter, Patricia; one sister, Ruth Deyo; one brother, Vernon Bjerkvold.
Friends may call at Ryan Funeral Home, 305 N. 10th Street, De Pere on Tuesday, March 17, from 11:00 am to 1:00 pm. Burial will take place at St. Joseph's Cemetery, Oneida.