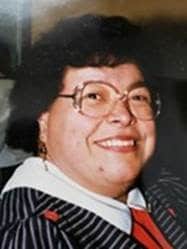 Oneida – Joann L. Doxtator, age 71 of Oneida, passed away on March 11, 2020 at Edenbrook in Green Bay. She was born on March 20, 1948 a daughter of Rimton and Delphine (Danforth) Doxtator.
Joann was a member of the Oneida VFW Auxilliary and the D.A.V.
She loved putting together puzzles, playing bingo, and painting. Joann also had a passion in her for the Green Bay Packers and NASCAR. She was always happy and proudly wore her smile.
She is survived by her mother Delphine Doxtator; aunt, Sandra (Clarence) Cornelius; cousins: Wesley and Matthew Cornelius; Leander, Dennis and David Danforth; Pam Sittingbear, Anthony Benson, and Danielle Benson.
Joann was preceded in death by her father, Rimton; and her brother, Rimton Jr.
Joann will be buried at Holy Apostles Cemetery, Oneida. Muehl-Boettcher Funeral Home, Seymour, is assisting the family with arrangements. Online condolences to Joann's family may be expressed at www.muehlboettcher.com
Special thanks to Compassus Hospice, Matthew Cornelius, and Sally Schroeder for all the care given to Joann