Logo design winner Stephenie Muscavitch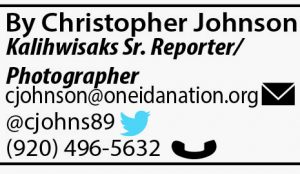 The 2020 North American Indigenous Games (NAIG) are headed for Halifax, Nova Scotia, July 12-18. More than 5,000 athletes from across Turtle Island are expected to make the journey to the ancestral and unceded territory of the Mi'kmaq people to participate in 16 different sporting and cultural events. The NAIG have been held intermittently since 1990 and has grown into the largest sporting and cultural gathering of First Nations Peoples in all of North America. This year at least 90 Oneida Nation athletes will compete in lacrosse, canoeing, kayaking, rifle shooting, archery, baseball, softball, golf, swimming, volleyball, wrestling, and basketball as part of Team Wisconsin.
Team Wisconsin, part of 13 regions across the continent that take part in the games, has participated in six North American Indigenous Games competitions since the inaugural games were held in Edmonton in 1990. The team has brought home 150 medals across that time span. This year, nine of the state's 11 tribes will have athletes representing them at the NAIG, according to Lisa Summers, Oneida's Team Wisconsin tribal representative.
Summers, also the Oneida Nation's Tribal Secretary, is proud to have the entire Business Committee (OBC) onboard with multiple forms of youth development. "Throughout this term in office, the OBC has actively engaged in various special projects to promote youth leadership development as well as developing a tangible experience based on cultural and historical awareness," Summers said. "Supporting NAIG comes naturally from this perspective, as it is another avenue to support youth leadership development and physical fitness awareness through an international, multi-sport competition."
Early in her career Summers worked as a Recreation Specialist in Oneida's Recreation Program and volunteered when she could with the community's Lacrosse Program. These experiences were very similar to her experiences with NAIG. "Knowing the time and dedication the Recreation team and other grass-roots programs such as lacrosse puts into supporting the development of our young people is wonderful," Summers said. "And seeing that translate to how our young people carry themselves, or how they participate and grow into contributing adults in our community, is a magnificent experience."
The Oneida community as a whole has also clearly shown their love and support for youth leadership and the NAIG. "It's been my observation that parents, relatives and supporters travel to the games in different ways and we seem to average around 200 or so," Summers said. "Oneida is a very well-traveled team in general, and community members and tribally owned businesses and entrepreneurs have also been extremely supportive of Oneida athletes and their families.
"This is the world's largest indigenous competition," Summers said. "It is awe-inspiring and surreal to know the 3rd grader that yesterday came to participate in afterschool programming, or t-ball, lacrosse or basketball feeder programs, is now leading their peers into the future.
"One of the many benefits of participating in the games, competition aside, is the chance for native youth across Turtle Island to meet peers from other nations and form life-long relationships," Summers said. "As we grow into adults one of the many skills we form is to tap into our resources. Knowing people from across the continent and walks of life can build and strengthen our indigenous nations."