Kali photo/Christopher Johnson
An emotional Saqora Skenandore and her mother Marsha are seated courtside prior to the Lady Thunderhawks game against Niagara February 7. The ladies dedicated the game to Saqora and presented her with gifts of love and support.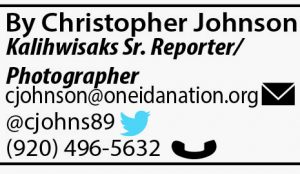 December 27, 2019, was the day Oneida Nation citizen Marsha Skenandore received devastating news that no parent ever wants to hear. While the rest of the country was gearing up for New Year's Eve festivities, Skenandore had just found out her daughter Saqora, a 7th grader at Oneida Nation Middle School, was diagnosed with leukemia.
Leukemia is a form of cancer that can affect a person's blood and bone marrow, and once that diagnosis is given, immediate action must be taken. "There are no stages to leukemia so when they do find it they have to act pretty aggressively," Marsha said. "Less than 24 hours later (Saqora) was already receiving her first dose of chemotherapy at St. Vincent Hospital."
The early part of treatment for leukemia is known as the remission induction phase, which is designed to kill the leukemia cells in the blood and bone marrow. Saqora's induction phase lasted 29 days. "She received different chemotherapies over those 29 days," Marsha said. "After day eight, she developed mouth and throat ulcers which caused her to be hospitalized for about 18 days. She was on a constant morphine pump to control her pain, she wasn't able to eat, she became very dehydrated, suffered hair loss, and she lost her voice."
Saqora bravely fought her way through the induction phase, and hope began to show itself. "They conducted another biopsy of her bone marrow and test was negative," Marsha said. "That was fantastic news because this means she can stay on a regular regimen as she approached her next phase of treatment. We're now in week two of eight in the consolidation phase which includes spinal taps and intravenous hydration to make sure all the chemo is out of her kidneys. She had a rough go of it last round because she had a bad reaction to some medication. But she's been doing great and she's such a true fighter. I get my strength from her just watching her power through all of this."
Enter the Oneida Lady Thunderhawks. Saqora's sister, Shania, is a junior at Oneida Nation High School and a member of the Lady T-Hawks varsity basketball team. Once word spread about her sister's condition, the ladies banded together with Shania like any true team would and decided to dedicate their February 7 game versus Niagara to Saqora. The ladies were victorious on that memorable night.
"I'm proud that my school and (Oneida Nation High School Principal) Artley allowed us to dedicate a game to my sister," Shania said. "It meant a lot to my family and I. We played hard that day as we do every game. I love how my team, school, and community all came together as one and comforted my family and I during this whole journey."
"One of our players approached me and asked to dedicate one of our games to Saqora," Lady Thunderhawks Head Coach Lee Laster said. "We decided at that time as a team what we were going to do, and then some of the parents got involved as well and it grew into something more than we anticipated, which was incredibly awesome. We hadn't even told Shania yet, Saqora's sister, because we planned it around her before we brought her into the loop, and then we reached out to the family.
"It started out as getting orange shirts and if Saqora was able to attend we would honor that game to her," Laster said. "We got more involved and my wife (Rosa) wanted to do a gift basket, and then we found out one of Saqora's favorite animals is the sloth. So my wife found a big, stuffed animal sloth for her as well. The game dedication also served to push awareness out there as well that everybody is fighting battles in their life and it's especially unfortunate when it happens to our youth. And then for it to be as close to our team as it was.
"That was definitely heavy on our minds going into that game," Laster said. "We wanted to make the night go perfect for Saqora, so we had already planned in the locker room and with Artley as to how we were going to present the gifts. The girls were very thankful that they got to do that for her, but that was a collective effort on the part of everybody involved."
"Mentally she's been fighting through all of this," Marsha said. "I really feel the tribute game from the Lady Thunderhawks couldn't have come at a better time. She had just lost her hair, was feeling down, and getting all this love and support from the community and her family was awesome. It was exactly what she needed at that exact time, and it was pretty overwhelming for both of us to know that everybody was there supporting us. She was determined to go that night, and she pushed herself to go, and it meant so much to her to see her sister play ball. She's just a great kid."
Saqora's overall treatment is expected to last across the next 2-3 years and it will take place in phases. At this point in time she is expected to be out of school until later this fall. But her mother remains optimistic and grateful for such a caring community. "The T-Hawks did a wonderful job," Marsha said. "We just want everybody to know how much we appreciate the prayers, gifts, and the donated hours. Without that I have no idea what I would be doing financially. It means so much to all of us."
The Oneida Nation Veterans Services Office, located at 131 Riverdale Drive in Oneida, will be hosting a fund-raising benefit for Saqora and her family on Saturday, March 7, from 10 a.m. until 3 p.m. Raffles will take place, food will be available, and Jammin Joey will be on hand to provide live music.