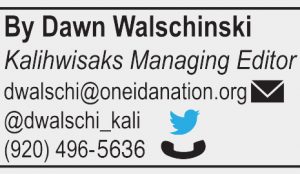 Public school districts from around Wisconsin are recognizing that race-based mascots are not just a sports issue.
"It is not good educational policy to stereotype against a race of people," said Tricia Zunker, president of Wausau School board. "This is something that is personally concerning to me as a Ho-Chunk woman, as a native woman."
Zuncker submitted a resolution to the Wisconsin Association of School Boards (WASB) which urges state legislators to create legislation requiring school districts to retire Native American mascots. She received unanimous support from the Wausau School Board and got 18 other school boards to co-sponsor Resolution 2010: Native American Mascots which will be voted on at the State Education Convention in Milwaukee January 22-24.
"It's pretty rare to see 18 co-sponsors submit a resolution," said Zunker.
According to Barb Munson, Chair of the Indian Mascot and Logo Taskforce for the Wisconsin Indian Education Association, schools that don't have Native America mascots are starting to speak out on the issue.
"In the mascot dialogue throughout the state, lots of times there's been a silent majority of school districts that just don't really engage in the dialogue, almost as if it doesn't affect them, but it does affect them. Like the Wausau school district actually has native students in their classrooms," said Munson.
She credits the passage of Act 31 in 1991 which requires school districts to teach about the history and culture of the 11 tribes in Wisconsin for maturing the discussion on mascots.
"We have more and more educators and education professionals, superintendents, and other administrators who understand this issue as a primarily as an education policy issue, and the question at the heart of it is 'is it ever good education policy for a school to encourage students to stereotype and engage in acts of discrimination involving a raced based Indian athletic identity?'" said Munson.
Resolution 2010 cites research that shows race-based mascots are not only harmful to Native American students, but also to other minority students.
"15 years ago, the American Psychological Association call for immediate retirement of Native American mascots, logos, nick names, symbols, and imagery because of the detrimental effect on the educational experience of all students, not just native students. Also, because they exacerbate cross community conflict and they create a hostile learning environment for our students," said Zucker.
"The body of evidence really has grown, and it really is something that we have to face as a society because it's not appropriate for a school to be essentially teaching that it's OK to stereotype any racial group," said Munson.
"Since I started circulating this resolution in July of 2013, three of the 31 school districts that did still retain a mascot logo, nickname, etc., actually made the change on their own. So that's fantastic news," said Zunker.