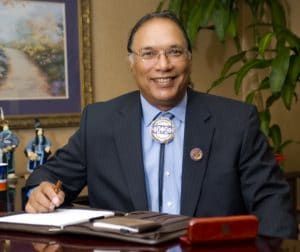 Richard "Rick" Graham Hill, 66, of Oneida, Wisconsin, walked on December 12, 2019 at his home. He was born on January 6,1953 to Eileen Johnston Hill and Norbert S. Hill in Detroit, Michigan.
Rick was a very talented athlete and spent a lot of his time playing sports. Born into a family destined for public service—his grandmother, Dr. Rosa Minoka Hill, the second American Indian woman doctor in the country, and his mother, from Alberta, Canada, a Registered Nurse, began early on to accompany his father to tribal meetings, shaping the leader he would become. Rick attended West DePere High School, and earned the 1971 West DePere High School Athlete of the Year. He also attended Haskell College.
In 1988, Rick and Cherie Elm were blessed with his oldest son, Richard Graham Lo'nikuhliyo'stu, Jr., aka Lotni.
As a young adult, he directed the Boys & Girls Club in Oneida. Rick served as a councilman and Vice-Chairman for the Oneida Nation before serving as Chairman from 1990-1993, Under Chairman Hill's first term leadership, Oneida signed its first gaming compact with the State of Wisconsin. In 2008, he was encouraged to and was elected to a second term as tribal chairman.
While serving his first term, Chairman Hill simultaneously served as Chairman of the National Indian Gaming Association, Washington, D.C., a national tribal advocacy organization that represented 168 federally-recognized tribes in the gaming industry. Under Chairman Hill's leadership, NIGA became a nationally-recognized voice in Washington, D.C., on Indian gaming issues and successfully initiated the development of a national set of minimum regulatory standards and policies for tribal governmental gaming.
In 1993, Rick met Donsia and the two were married the following year at sunrise. They bore two sons, Sage McKinney Lolihwaká·te Hill, who was born in 1996 and his youngest son, Dakota Grahame Tehokahtlu'.ni Hill, was born in 1998. Together, Rick and Donsia worked alongside each other, moved to Oneida and raised their three boys.
After Chairman Hill retired from Oneida politics, he went on to pursue his interests in many other joint ventures. He formed The Hill Group, LLC, to consult with various entities to identify economic development projects and partnerships in Indian Country. Additionally, RGH Holdings, Inc. was involved in the first ever consortium of tribes to invest in off reservation real estate development projects.
Rick received a host of awards and honors, including becoming the first Indian Gaming inductee into the Gaming Hall of Fame in October, 2001 in Las Vegas, NV. Rick was most proud of his work in Indian Country serving on the board of the Native American Rights Fund, and the Public Sector Gaming Study Commission. In 2008, along with five others, Rick received the Pathbreakers Award, an honor for playing a key role in the development of Indian gaming. In 2012, he was awarded the Eagle Visionary Award and inducted into the Indian Gaming Hall of Fame.
Rick always attributed his success to others who supported, mentored and befriended him while working in Indian Country. He was inspired to help other tribes and to work together to create strong tribal governments.
Rick enjoyed and played almost every sport; he played basketball, baseball and football throughout his life and later became passionate about golf. Like his father, he was a benevolent coach to his sons and many others.
Rick is survived by spouse, Donsia Strong Hill, and his children: Richard (Desirae), Sage, Dakota, and his two grandchildren: Asher and Vine. He is also survived by siblings: Barbara Author, Norbert, Jr., (Mary), Rosa (Rick) Coenen; sister-in-law, Lenora Hatathlie and brother-in-law, Mike Author; his nieces: Megan, Sarah, Maria, Nasbah (Jamison), Nanabah (Michael), Melissa (Scott); and his nephews: DinéNizhoni, Christopher (Maria), Mark, Nabahe, Norbert III (Erin), and goddaughter, Jolene Billie; and long term business partner and colleague, Dawn Reiter.
He is preceded in death by his parents, Norbert and Eileen, his brothers: Charlie and James; and nephew, Anthony Author.
Friends may call from 3pm-6pm to be received by the family on Wednesday, December 18, for Visitation held at the Ryan Funeral Home, 305 N. Tenth St, De Pere, WI. A Wake will be held at the Oneida Nation Longhouse located at W370 Reformatory Road, Seymour, WI, from 9pm-7am, followed by a Funeral Service at sunrise with Chief Bob Brown and Faithkeeper Leander Danforth presiding. A procession to and Burial will commence at 930am, St. Joseph Catholic Cemetery on Seminary Road in Oneida. Friends may also gather to remember and celebrate the life of Rick Hill with his family from 11am-1pm at the Radisson Hotel & Conference Center, 2040 Airport Dr, Green Bay, WI.
Rick is adored by many, his family and friends and will be deeply missed. The family expresses their heartfelt thanks for all the support and would like to share these words that Rick lived by … to walk on your prayers, to keep a good mind and have a good heart about doing things together for the greater good.
In lieu of flowers, the family will accept donations to a fund to be set up to honor Rick and support the continuation of his life's work. More details to follow in the coming days. Ryan Funeral Home, De Pere is assisting the Hill family. To extend online condolences, please visit www.ryanfh.com.