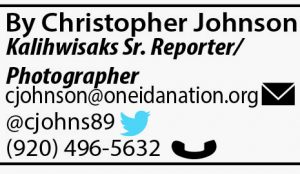 The Oneida Nation Lady Thunderhawks head into tonight's season opener against NEW Lutheran with first-year Head Coach Lee Laster leading the way. No stranger to Oneida Thunderhawks' basketball fans, Laster spent three seasons as the assistant coach to former longtime Lady T-Hawks Head Coach Jamie Betters.
A no-nonsense head coach, Laster likes what he's seen so far from the team in the run up to tonight's game. "I see a lot of good things," Laster said. "I see some awesome leadership already in these early practices. I also fit in some early morning practices that were strictly for conditioning so the ladies are ready to go. This is very exciting."
Having been an assistant on Betters' staff, Laster was present when the ladies' last two seasons ended in heartbreak at the hands of conference rival Gillett, and he remembers those games well. The Lady T-Hawks will host Gillett in their home opener Friday, December 6, which will provide the ladies with an early opportunity to exorcise those memories from their minds. "We're basically going to play ball in that game with a chip on our shoulder," Laster said. "That's a guarantee. There's a chip there and these ladies know that. We've lost to them twice in the last three years in the Regional Championships and that's been tough for them to swallow."
Although the Lady Thunderhawks will continue to show the run-and-gun style of play fans have grown accustomed to seeing, Laster has implemented a few new wrinkles to the offense. "We've switched things up a bit this year, but we're definitely still looking to run the floor," Laster said. "We're looking to put together a nice game plan against the zone because it seems like teams enjoy playing a zone against us. Our offenses are capable of scoring a high volume of points and they know if they move into a zone they can slow us down, so we're looking to incorporate more zone offenses into our scheme this year."
The loss of 1,000-point scorer and team leader Yelih Rodriguez to graduation leaves some big shoes to fill, but the ladies have players with the skills to step up and fill that gap. "Right now the girl stepping into that role who will play a high post or the low corner-to-corner will be Sadie Danforth," Laster said. "And as of right now the sixth person off the bench will be Abby House. Our other varsity girls looking to step up will be senior Ciah Danforth and freshman Tyra King."
Returning starters Malia Jacobs, Sadie Schuman, and Kenzey Ackley will be counted on to provide team leadership. "They're our three upper classmen," Laster said. "I expect them to be good leaders. I expect them to lead in a positive way, encourage, and promote these younger ladies because they're the ones that will be filling their shoes after this season. Those three are named captains for a reason and that reason is to prepare the younger ladies and themselves for each game."
Jacobs anticipates expanding her role with the team this year. "I expect myself to play more positions this year," Jacobs said. "I also want the younger girls to be able to step it up like I did my sophomore year and hopefully next year these freshmen will be team captains as sophomores. This season I expect us to show that we can still be on top even though we lost one or two important names. It feels good to have our fans cheering for us so hopefully everybody can make it to our games this year."
Senior Sadie Schuman is excited for the season as well. "We have a lot of new, young girls and we really want them to step up," Schuman said. "I'm really looking forward to playing Crivitz, Wausaukee, and Gillett this year. I want the younger players to be able to talk to me if they need help with anything and I want to be a proper leader. We need a lot of support this year so hopefully we get a lot of fans at our games."
Junior Kenzey Ackley expects to be an effective leader as well. "I want to be able to encourage the younger players to get their confidence up so they know they're at this level," Ackley said. "I really expect myself and everybody to play their role properly on the court. I also expect our fans to come out to our games and show their support."
Joining Laster on his staff this year is new assistant coach Lindsey Black Owl, another familiar name to Lady Thunderhawks' fans. "She's already done a lot as my assistant," Laster said. "She has a lot of experience and history with the Lady Thunderhawks and I'm glad to have her as we prepare to get this season going."
"I graduated in 2014 from Oneida Nation High School and was part of the team that made it to the Regionals and Sectionals Championships," Black Owl said. "I'm very excited to be working with (Coach Laster) who's been in the conference for a few years and can help show me the ropes because he's been in my spot before. I see a lot of hard work and dedication out of these girls. They like to have fun and they're a fun group to work with. But we need to have a strong mentality and we have to learn from our experiences, and I think these girls are well aware of that. This is going to be an exciting year and I'm excited to see the fans that supported me support these ladies. I'm looking forward to seeing our fans at the games."
"I'm a little bit nervous and excited at the same time for the season," Laster said. "I expect us to compete for the M&O Conference Championship which is ultimately our end goal. What we do from there is based off of our season play. We'll worry about the playoffs and advancement when we get to that point, but right now we're worried about taking this conference one game at a time and that starts with a big non-conference opponent in NEW Lutheran to start the year off. I'm feeling good about this."
The Lady Thunderhawks open their 2019-2020 season on the road this evening against NEW Lutheran before heading up to Crivitz Tuesday, December 3. The ladies will then be at home Friday, December 6, in their much-anticipated showdown against conference rival Gillett, the team that knocked the Lady T-Hawks out of the playoffs the past two seasons. All start times are slated for 7:15 p.m.