Kali photo/Christopher Johnson
Junior Javon Webster takes to ball upcourt during a recent Thunderhawks' practice. Webster will be counted on for both his on and off court leadership this season.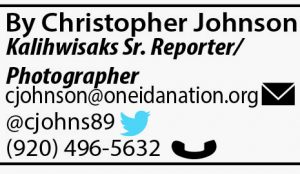 Oneida Nation Thunderhawks boys basketball Head Coach Jamison King and Assistant Coach Tek Skenandore have their varsity team ready to roll for their 2019-2020 season opener on the road against Bowler Tuesday, November 26. With just over one week of practice to prepare, the dedicated players on the team have been putting in a lot of hard work to ensure maximum preparation.
"Our goal is to build off of each season and we want to take this thing a step further…if not five steps further this season," Fourth-year T-Hawks Head Coach Jamison King said. "We have a lot of returning players from a rather decent season last year. Last year we made it to the second round of the WIAA playoffs but it's been a few seasons since we made it to the Regional Finals, so we want to get back into the mix and make some noise in our conference and the playoffs."
Having competed very closely with the top teams in the Marinette & Oconto (M&O) Conference the past few seasons, King believes this year's Thunderhawks could be the team that brings them to the top. "One team in our conference went undefeated last season and when we played them late in the year we were right there with them at the end of the game," King said. "A couple of calls and bounces didn't go our way and that made the difference in the ball game. So I fully expect us to compete with the best in our conference and give them a run."
A strong roster with several returning players is expected to help bolster the team's chances of making a run deep into this year's playoffs. "These players know what I expect of them," King said. "We had some new guys last year but now we're looking for those returners and upper classmen to take up leadership roles on this team."
Two returners in particular will be called upon to provide that on and off-the-court leadership. "Junior Javon Webster, who garnered second-team All-Conference honors last season, is our big guy who was the second leading scorer in the league last year," King said. "Senior Lahsa Hill came on late for us last season and had several games of double-digit scoring and put up several rebounds in those games. He's a big, strong kid who really made progress last year so I expect him to do some good things for us this year as well."
"To be a team leader you've got to come in here and take care of business," Webster said. "You really have to earn it because that role isn't just handed to you. I come in, work hard, and put in the work at 6:00 a.m. because you really need to put in the practice on your own time and not just on the court. I help facilitate that with my guys because they can't do it by themselves, and neither can I. I may be the leader, but we do this as a team. Hard work and commitment are what it's going to take. Last year we lost in the second round of the playoffs against Suring and that was a big heartbreaker for us, but we're here to go to regionals and beyond this year. So our goals are set pretty high for the season and we're here to work for them. Go Oneida."
Junior Meshan Matchopatow, who transferred to Oneida from West De Pere, is fitting right in with the team. "I really like how (Coach King) focuses heavily on defense because that's my thing," Matchopatow said. "I expect us to go far this season because we just have great guys on this team. I want our fans to help cheer us on and we're going to win big this year."
Sophomore transfer Alex Vansteel has also looked good so far this preseason. "From what I've seen in open gyms and in the Fall League, Alex will contribute to our team in a lot of different ways because he's a skilled player and we're happy to have him," King said.  "Junior Mason King is back, healthy, and ready to go for us. He transferred in to us from Florida last season but was under doctors' orders not to play late in the year due to an illness. I'd seen him play when he was healthy and he just wasn't the same player, but now he's healthy and ready to go."
Sophomore Chaske Jacobs gained a lot of varsity experience last season and will be in the mix. "I'm really glad Chaske got that game experience as a freshman," King said. "He took on a role last year that not a lot of people are willing to fill when he stepped in and was willing to take charges. He's a youngster and made a lot of big plays for us and had a lot of assists. He has great vision and studies the game far more than any other player that I know of on our team. I can tell who's putting in the time and studying film and he's always in there."
With the season about to tip off, King's expectations for the season are clear. "I expect us to build off of last year's experiences and be able to play with anybody," King said. "I want our guys to buy into our system and play a certain way and that's the challenge. They play a lot of open gym and pick up some bad habits along the way, so we want them to play smart ball and not just fling up shots. We focus a lot on fundamentals and bad habits are tough to break, so we want them to really learn the game because in high school there's a certain way they need to play if they really want to beat these better teams."
The Oneida community and Thunderhawks fans everywhere will be counted on for their support this season. "Our fans are a tremendous support," King said. "The youth really appreciate that and it makes them play harder. We love our fans and they always have our backs. We just really want to see you all out there in the stands and we appreciate you all and……Go Thunderhawks."
The Oneida Thunderhawks tip off their 2019-2020 season on the road against Bowler Tuesday, November 26, and travel to Crivitz December 5. The Thunderhawks then head back to Oneida for their much anticipated home opener against conference rival Gillett Tuesday, December 10. All game times are set for 7:15 p.m.