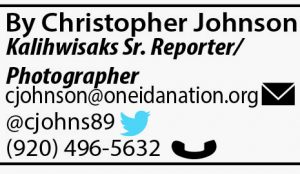 The Oneida Nation Comprehensive Housing Division recently completed the latest expansion of its Elder Village and hosted an Open House on Henry Road November 14-15. The latest development in the subdivision consists of eight new cottages for their income-based program.
"This is the second in a multi-phase expansion in our Elder Village," Scott Denny, Area Manager for Comprehensive Housing Division's Residential Rentals, said. "The previous build here consisted of eight elder cottages, and this second-phase expansion is eight more and we have more in the planning. In all Elder Village consists of 32 residential lots so we're going to keep going until we fill all the lots."
The overall expansion project is expected to take several more years. "The reason for that is because of how we build these and the federal grant money that is used to build them," Denny said. "With this recent phase we went back to the drawing board with some of the open concepts like accessibility and bathroom designs and now we have more options. The first phase builds consisted of two-bedrooms only, but this most recent effort was a mixture of one- and two-bedrooms."
The Oneida Housing Authority was established in 1963 but had no say in how lodgings were constructed in those early days. "From 1963 until 1996 any money the Housing Authority received for construction was dictated as to how we constructed, floor plans, amenities, and sizes," Denny said. "That's why the three-bedroom units on Chief Hill Drive are so small. Our Housing Authority didn't decide to build those. We had no say in it and we were dictated as to how we could build them. The Native American Housing Assistance and Self-Determination (NAHASDA) Act of 1996 is the government now saying they're still going to give us housing money, but they also acknowledge that meeting our housing needs is different from one tribe to the next so now we can determine how to do that on our own."
While there are still parameters that must be adhered to, the NAHASDA Act removes the dictation on how tribes construct housing. "They no longer dictate design, layout, square footage, and amenities," Denny said. "That's why we have the things like air conditioning and garages now. Those things weren't allowed back then. That's so important for people to know and understand."
There are several newer amenities included in the Elder Village cottages. "The radiant floor heating is consistent across the board in this project," Denny said. "We began that several years ago in the duplexes near Elder Services and stuck with it because of the low cost. It's very efficient and although it will take longer than forced air heat it is much more cost efficient. There are a number of our tribal members that have respiratory issues, and this will reduce dust in the air that we see with forced air heating."
The open floor concept and wider door designs for wheelchair and walker accessibility are meant for tribal elders. "As our elders age, and their physical needs potentially become an issue, then there's the probability that these units will serve you better," Denny said. "Some of our older builds that date back to the '70s and '80s weren't built with these designs in mind so these new units are meant to better serve our people with those physical needs."
People applying for Comprehensive Housing Assistance are applying for the program itself, not for a specific elder unit. "When applying, you're applying for whatever applicable program you may qualify for," Denny said. "You may qualify for multiple programs, and it's easy to get excited when they see a new unit and think that's the one they want. But it may not work out that way, so we just want to give that precaution. So, with that transparency may come some disappointment."
Applicants will most likely be subject to a wait list as well. "What happens with elder housing is there is a fairly low turnover rate," Denny said. "Once an elder gets a unit and they can age out here, they're less apt to move. So even though the wait list number may seem low, it may still take some time. These units are the best of many worlds. These are built with improved accessibility and the elder in mind. Our units are income-based, so the lower the income the lower the rent."
Applicants are also asked to understand that there is nothing in the tenant selection process that would distinguish one person's need over any other. "The tenant selection process is clearly outlined in the rules listed on the Oneida Nation's website under the Landlord/Tenant Law," Denny said. "The laws are on the register and beneath it are listed all the rules applicable to each of our rental programs."
Too apply for Comprehensive Housing Assistance feel free to contact Residential Outreach Coordinator Marsha Skenandore at (920) 869-6184 or email her at mskenan5@Oneidanation.org.