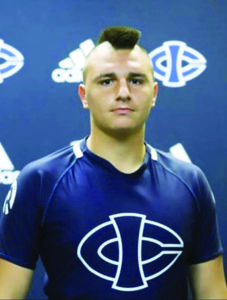 Josh Denny and the Iowa Central Community College Tritons from Fort Dodge, Iowa have received an at-large bid to compete as the #6 seed in the 2019 USA Rugby College Fifteens D1AA National Tournament.
Josh is a 6'1" 215lb college freshman rugby player with the Iowa Central Community College in Fort Dodge, Iowa.  Josh was born and raised in Green Bay, Wisconsin and is a proud citizen of the Oneida Nation.  Josh played both football and rugby his freshmen year in high school. Unfortunately, his high school football coaches in Green Bay did not support rugby, so Josh was forced to choose. Thankfully Josh chose rugby.
Josh played 3 years of rugby with the Green Bay Leprechauns high school rugby team governed by USA Rugby. In the spring, he would play fifteens (15 players on the field) and during the fall he played sevens. During his junior year in high school, Josh tried out for and earned a spot on the Badger Selects Rugby team. The Badger Selects were comprised of the best high school rugby players in the state of Wisconsin. Josh played both his junior and senior years with the Badger Selects.
Last winter, Josh signed his student-athlete college letter of intent to play rugby at the Iowa Central Community College in Fort Dodge, Iowa and study Athletic Training.  At that time, Iowa Central was a DII rugby powerhouse ranked #2 in country.
Josh has excelled during his freshman year, getting bumped up to the A side for the playoffs. He's enjoying the challenging speed of college level rugby.
"It's way, way faster, a much higher pace for a longer amount of time," he said.
When Iowa Central's rugby season began this fall, they were still ranked #2 in the country at the DII level.  Josh scored his first college rugby try (like a touchdown in football) in a match against the Iowa State Cyclones in their second game of the season. While Iowa Central had their sights set on a DII National Championship, the USA Rugby Collegiate Committee voted 7-1 to move them up to DIAA after the season had begun.  Now their goal is to win the D1AA National Championship.
"Practices got a little bit harder, the standards went up a little bit, it's not going to be quite as easy," said Josh.
This fall Iowa Central outscored their opponents 369-185. They defeated the Wisconsin Badgers 79-5, Iowa State Cyclones 56-0, Belleville Lynx 72-7, Notre Dame College Falcons 22-20 and the Minnesota Gophers 35-10. The Arkansas Razorbacks and a banged-up University of Northern Iowa team were forced to forfeit. Iowa Central's only losses came from D1A #4 ranked Lindenwood Lions, #8 ranked Davenport Panthers and Belleville won in the second match.
The Iowa Central Tritons now face the Virginia Tech Hokies in the first game of the D1AA College Rugby Playoffs November 23, 2019 at 1pm EST in Greenville, North Carolina.