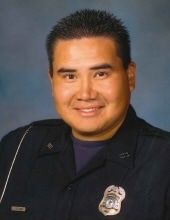 Alphian "Al" Carl Metoxen, age 46, of Oneida, passed away unexpectedly Sunday, October
27, 2019. Al was born August 28, 1973 the son of the late Roy K. and Lida H. (Parkhaurst) Metoxen.
Al graduated from West De Pere High School, then attended University of Wisconsin – Platteville, WI and graduated in 1996 for Criminal Justice. Soon after he graduated Al joined the Oneida Police department where he served the community for 19 years. After he retired from the police department, Al attended and graduated from Mitchell Hamline School of Law in St. Paul, MN and obtained his Juris Doctorate in May 2019. Al loved going to movies, watching the Packers, comic books, golfing, and spending time with his son Kaden. Al had the best sense of humor and was always making others smile and laugh. While living in Minneapolis Al volunteered for the Minnigate Wat Promwachirayan Thai Temple, where he became very involved and they treated him like family.
Al is survived by his son, Kaden Metoxen; his siblings, Dale (Tammy) Metoxen, Lynn Metoxen, Kenneth Metoxen, Laurie "Lobie" Metoxen, Lyle (Laurie) Metoxen, and Mitchel (Glenda) Metoxen. He is further survived by Kaden's mother, Rochel Smith and many nieces, nephews, extended family and friends both from Wisconsin and Minnesota.
He was preceded in death by his, parents and his brother Jeff Metoxen.
Family and friends may gather at Holy Apostles Episcopal Church, 2937 Freedom Road, Oneida, WI, Saturday, November 2, 2019 from 9:00 am until 10:45 am. A funeral service will be held at 11 am. Online condolences can be expressed at www.ryanfh.com.
Al's family would like to thank the University of Minnesota Medical Center 4E Cardiovascular ICU for their gentle care. A memorial fund has been established in Al's name. Flower Arrangements may be sent to Holy Apostles Episcopal Church for Saturday by 8:00am.