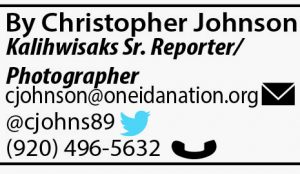 Pulaski High School senior and Oneida Nation citizen Sadie Kelley qualified for and finished in the top 10 in the WIAA 2019 State Women's Tournament at University Ridge Golf Course in Madison. The annual tournament, which took place October 14-15, featured the top high school players from across Wisconsin.
"I've qualified for sectionals every year, but this is my first year making it to state so I'm very excited," Kelley, 17, said. "I got into golf because I would go to the course with my dad when I was little and goof around. But I really found my love for the game when I was in 8th grade."
Kelley says the biggest allure for her is the fact that golf, which can be a team sport, is almost exclusively an individual game. "This game is really about yourself and how you want to play because you can't be taken out like a basketball or soccer player," Kelley said. "You have to play through everything."
Although Kelley credits her dad for introducing her to the sport, she cites LPGA professional golfer and Shoshone-Paiute citizen Gabby Lemieux as one of her biggest inspirations. "Gabby stayed with our family for about two weeks during this past summer's LPGA Thornberry Creek Classic and we got pretty close," Kelley said. "We went to Six Flags together and had a really fun couple of days. She knows what it's like to be a Native girl in the golf industry so that's how I can relate to her."
As a student-athlete, Kelley understands the importance that academics will play as she begins her search for colleges and scholarships. "I've been talking with UW-Oshkosh and UW-Stout and they've come up to watch me play several times," Kelley said. "I've taken tours there but I'm also looking out of state. I'm trying to get in touch with Colorado Mesa University in Grand Junction, Colorado. They're an NCAA Division II school whereas the state schools here are Division III and I want the higher level of competition."
In addition to relishing top-notch athletic competition, Kelley also has her sights set on some lofty academic goals. "I'm thinking of majoring in Political Science and minoring in Business Marketing or English because I want to be an attorney," Kelley said.
Kelley qualified for state by scoring a 77 in sectionals competition at Thornberry Creek at Oneida. During the WIAA State Tournament, she finished in the top 10 in Division I play.
"The Oneida community has really supported me a lot at sectionals and regionals," Kelley said. "Family members and family friends have come out to see me play, including my best friend's mother which was really cool. Just having friends and community members who've helped raise me come out makes me happy to know that they continue to support me. Thank you to the community for all the support and helping make me the person I am today."
Kelley is the daughter of Lance and Jennifer-Hill Kelley.