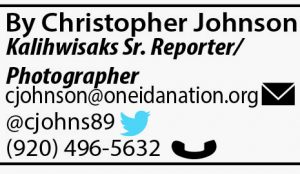 With Wisconsin Governor Tony Evers recently issuing an executive order declaring the second Monday in October as Indigenous People's Day, the state's 11 tribes marked the occasion with ceremonies in their respective communities.
The Oneida Nation, which adopted its own resolution to this effect in 2012, celebrated October 14 with traditional prayers and park dedication to the late Amelia Cornelius, a well-respected elder, patriarch, and Oneida tribal historian. Hundreds of community members and area local leaders gathered at the newly-named Amelia Cornelius Culture Park (formerly known as the Cultural Heritage Grounds) to hear Oneida leaders speak about the importance of this executive order and what it means to the Nation.
"This is a moment of celebration and renewal," Oneida Nation High School Principal Artley Skenandore said. "In 1977 the indigenous people of this hemisphere, from the southern tip of Argentina to the northern tip of the Yukon, went to Geneva, Switzerland and renewed their understanding by sharing with the rest of the world and letting everybody know that the indigenous people of this hemisphere continue to carry out their duties and responsibilities from the youngest to the oldest. From that day forward, to now, we have this celebration of the State of Wisconsin recognizing this Indigenous People's Day. This day is about the creation and about the responsibility of where our feet are on this earth."
Oneida Nation Chief Bob Brown conducted the opening prayers and sacred tobacco burning. He was followed by local leaders sharing their thoughts on the day. "We want to thank all the young people and elders who made it here for this great opportunity to share some of our heritage, culture, and history and ensure that our community is a vibrant, safe place to live," Oneida Nation Chairman Tehassi Hill said. "A lot of that is based on education, so the more we can share with one another the better understanding we can build as a community and have a happy, safe place to raise our children, grandchildren, and take care of our grandparents."
"In a continued effort to educate and inform the public concerning the truth about Christopher Columbus, the 'Columbus Day' federal holiday has been reclaimed as 'Indigenous People's Day' in several communities throughout the United States," Oneida Nation Vice Chairman Brandon Stevens said. "Proclaiming 'Indigenous People's Day' is a concrete opportunity to denounce the historically inaccurate account of the 'discovery of America' by Columbus and associated false theories of the 'Doctrine of Discovery' and 'Manifest Destiny' whereby the genocide and violence (against) indigenous peoples is not acutely considered.
"Reclaiming 'Columbus Day' as 'Indigenous People's Day' is also an opportunity to promote healing and wellness in Oneida whereby these legacies are inextricably connected to the existence of federal boarding schools, removal from traditional land and culture, and trauma from further acts of colonialism," Stevens said.
Wisconsin Lt. Governor Mandela Barnes also shared his thoughts on the day. "It brought me great joy when the governor signed the executive order to officially recognize Indigenous People's Day throughout Wisconsin," Barnes said. "I want to thank all the people of the Oneida Nation for being the original caretakers of the land we stand on today. And thank you for all the contributions and sacrifices that so many of you and your ancestors have made since time immemorial. Without those contributions and sacrifices Wisconsin would not be what it is today, and for that we owe so much thanks and gratitude."
Following the engagement speakers, family members of Amelia Cornelius helped plant a white pine tree for the park dedication which is a symbol of unity and peace for the Oneida people. Her brothers Ted Hawk and Albert Manders, along with her children Linn Cornelius, Kim Nishimoto, Lee Cornelius, and Kerry Cornelius, helped pay tribute to a true Oneida treasure.
Later in the day citizens and community leaders from Green Bay and the Oneida, Menominee, and Ho Chunk Nations gathered at City Hall in downtown Green Bay as Mayor Eric Genrich read a proclamation declaring the second Monday in October as Indigenous People's Day within the City of Green Bay. "Being the mayor, it's really important for me to celebrate everything about this community, the diversity of this community, and everything that make us strong and unique," Genrich said. "This is a really important part of that."
On October 18, 23, and 28, the City of Green Bay will light their downtown bridges in the official colors of the Oneida, Menominee, and Ho Chunk Nations.