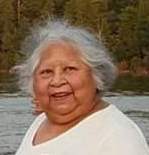 On September 11, 2019, Sharon K. Sarnowski, (Yewan˄hel) , age 78, Oneida, started her journey to the spirit world. Sharon was born November 28, 1940 to the late Mitchell and Eleanor (Hill) LaMotte. Sharon grew up in Chicago where she met the love of her life, Alfred Sarnowski, and they were married on August 23, 1958. They are both together again and celebrating their 61st wedding anniversary which took place in August. In 1981 the family move to California, where Sharon was able to finish her Bachelors Degree.  In 1996 the family moved to Oneida where she was able to leave her mark on Oneida as a Native American Indian Artist.
She is survived by her children; Tammy (Cliff) Webster Jr., Sandra (Bryce) Thomas, and Christina Sarnowski (Ignacio Ruiz). Grandchildren; Paul Csotty, Kateri (Geronald) Skenandore, Robert Waci Wambdi Diaz, Alan L. Wambdi Wah-ku Thomas, Justine Sarnowski, Justin Sarnowski, Andrew Ruiz, and three great-grandchildren. Sharon is further survived by her brother; Michael (Vicki) LaMotte, as well as numerous nieces, nephews, cousins, and friends.
Sharon was preceded in death by her husband Alfred Sarnowski in June of 2019, her son Scott Alan Sarnowski, her brother Arthur LaMotte, and her parents.
Friends may call at Ryan Funeral Home 305 N. Tenth Street, De Pere after 10:00AM Sunday September 15, 2015. Oneida Hymn Singers will sing at 1:30PM followed by a service at 2:00PM and a Drum service. Please go to www.ryanfh.com to send online condolences to the family.
Special thanks to Dr. Michael Flood for all his care and compassion.
One Response to Sarnowski, Sharon K. Yewan^hel