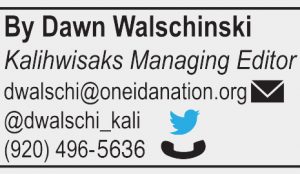 For John Skenandore, deaths caused by overdoses on or near the Oneida community hit close to home.
"My older brother died of a heroin drug overdose, my first cousin she died of a heroin overdose the next month. My little cousin, we buried her three weeks ago," he said.
Skenandore is the director of Project Lights Out, a program he started to combat drug use, gangs and suicide.
"I have been doing gang prevention, drug advocacy, suicide awareness, anti-sex trafficking and prostitution of our Native American women," he said.
Skenandore worked with Oneida's Tribal Action Plan (TAP) group but desired a more hands-on approach.
"The TAP initiative was very good, but it was all awareness and no going to the problem, so that was hard for me," he said.
Skenandore has organized community events like pot lucks, picnics, a sobriety powwow, and will be speaking at the Prevent Suicide Conference being held September 19-22 in Wittenberg.
"We're finding needles in the parks and stuff like that. We had the picnics. I had my drum come in and I had a bunch of volunteers," he said. The community members would clean up litter and drug paraphernalia at the park.
Skenandore has knocked on doors in Oneida's housing sites looking for addicts.
"The services we do for the Oneida community are going directly to the problem," he said.
Skenandore focuses on youth because he feels they're not set in their ways yet.
"Our youth, I feel, is the most important thing, because if they're not finding answers in the house, they're going to be finding answers in the street. And those answers that they're getting are drugs," he said.
Skenandore, who has several tattoos on his head, hands and neck, is up-front about his past, including a conviction of second-degree reckless endangerment which lead to a 10-year prison sentence.
"I got into a car accident, I was the leader for my gang for a long time," he said. "When I'm talking to these guys, they know I'm not full of crap. They know if I can change, then they can change."
Skenandore would like more people to join him in combating drug use in the community.
"It's not just the hierarchical officials, it's the community moving, too, because you need community, law enforcement, and our directors to move together, and if one is lacking, then all is lacking," he said.
For more information about Project Lights Out call 920-247-9799 or search for their Facebook page.
Project Lights Out will host a sobriety powwow Thursday, September 12 from 6:00pm to 9:00pm at the Oneida Civic Center.