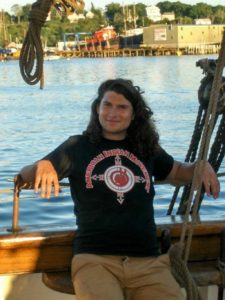 Sawyer R. Denning, 30, Green Bay, passed away on Wednesday September 4, 2019. He was born November 22, 1988 to Renee Zakhar and Marin Denning. Sawyer attended Indian Community School of Milwaukee, University School of Milwaukee, and UW Madison. He liked working with the crews at the Oneida One Stops and deploying his knife skills with the team at Chipotle. Sawyer had been a Staff Carrier at Indian Community School, Prefect at University School and President Wunk Sheek at UW Madison. He had tutored for Running Rebels in Milwaukee and helped with personal care and legal defense for Freshet Collective for NODAPL in North Dakota.
Sawyer had sailed on Tall Ships for three years, including the Dennis Sullivan and the Amistad, which he sailed on around the world. He liked chess, gaming, poetry, writing, and connecting with friends
He is survived by his parents; Marin and Renee, a brother; Harrison, and grandparents Paul & Arlene Zakhar. He was preceded in death by his brother; Taylor Denning, his sister; Isabel Denning, grandfather; Clarence "Jumbo" Webster and grandmother; Sharilynne Denning.
A celebration of Sawyers life will take place Saturday September 14, 2019 at the Parish Hall in Oneida from 10:00AM until 12:00PM, with the Oneida Hymn Singers at 11:30AM. Ryan Funeral Home, De Pere is assisting the family.
Special thanks to the; Valleen Menomin, Lisa Vega, and Vanny Wheelock.
The family requests no flowers please.
Donations of traditional foods, such as; berries, nuts, cooked fresh vegetables, venison, pork, fish, beef, wild rice, and berry teas would be appreciated.