Dakota Swamp and CJ Summers stretch out before training for Cross Country.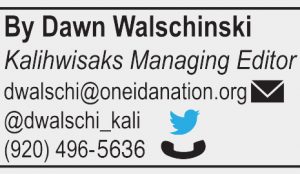 Oneida Nation High School (ONHS) Senior CJ Summers and first-time cross-country runner Dakota Swamp stretched out before starting their practice for their sport.
"I'm trying to get under 20 minutes for three miles," stated CJ on his goal for the season.
"I'm just trying to keep up with him," said Dakota.
Coach Curt Summers hopes to build on the momentum of improvements the team made over the course of last year's cross-country season.
"We progressively got better each meet. Times always got better," he said.
The team of 5 to 6 runners will participate in 5 meets this year, sometimes against higher division schools with bigger teams.
"The competition is set pretty high for those meets, but these boys (and girls) tend to work really hard," said Curt. "They put in the work, and usually by the end of the season it really shows."
Curt has the team doing strength training to improve overall fitness and hopefully avoid injuries.
"We really need these athletes to really think about that part of their sport. It's just not basketball, or it's just not lacrosse or it's just not football, because there's a lot of things that come along with those sports and one of the big things is injuries, so one preventative is strength training," he said.
While both CJ and Dakota think of lacrosse as their main sport, they enjoy cross-country running for its own benefits.
"I just really like to run, and it really trains for my other sports that I play, and it clears my mind a lot, too," said CJ.
"I know it's good training for, because I play lacrosse, it's going to be good from my lungs and stamina," said Dakota. "It takes your mind off of things, it also makes you take a step back and realize where you are."
ONHS Cross-Country Team will run on Saturday, September 7 at Irish Waters Golf Club in Freedom at 8:30am.