Kali photo/Christopher Johnson
Oneida/NEW United players run through line drills during a recent training camp practice. United Head Coaches Bryan Peterson and Dick Hasseler anticipate the team will experience success in the first year of their merger.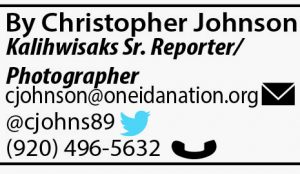 The Oneida Nation High School (ONHS) and Green Bay's NEW Lutheran High School will be sporting a new look this upcoming football season. Both programs are merging together for the 2019 season and will be known as Oneida/NEW United. The move was made this past offseason to help increase the number of players signing up to play ball at both schools. The move combines both the players as well as both coaching staffs.
Long time Thunderhawks Head Coach Bryan Peterson, now in his 10th season leading the program, will co-coach with NEW Head Coach Dick Hasseler who also has more than three decades of experience. "Coach Hasseler is a great coach," Peterson said. "He has a ton of experience and I learn new things from him all the time. As a coach he brings a solid structure and toughness that will help make us a strong program."
"Bryan's a great guy," Hasseler said. "I have a tremendous amount of respect for him and the effort he's put in to field a team year after year with low numbers. I've been there myself and together we're going to make this happen and we're going to be successful.
"This is a work in progress," Hasseler said. "We knew there'd be challenges and there certainly are. But it's basically getting the kids to gel right now and, first of all, show up. Success comes from commitment. Football is a lot of work, but I enjoy teaching these young people lessons about what life's going to be like. You need a team behind you to get through life and to be part of team requires commitment. There are kids here from both schools who want to play football and we're going to make that happen for them. We'll get those committed guys and we'll win some ball games.
The assistant coaching staff is strong with John Bradley and Jake Golden returning for Oneida, while Jim and Dave Bukowski come from Hasseler's NEW Lutheran staff. "These guys are all volunteers," Hasseler said. "This is all for the love of the game and love for these kids. These guys leave their jobs that support their families to come work with these kids. That's why we want commitment from our players because our staff is fully committed. There's no room for a part-time player. It's all about safety, too. If a kid isn't coming to practice, then he isn't prepared to play. The guys that are here every day will play."
"The two schools are looking the same right now as far as numbers go," Peterson said. "We have 12 players from Oneida on the team and 13 from NEW. We're relatively certain that NEW's Zach Luepke will be our quarterback, while Oneida senior Evan Danforth and NEW's Marshal Bukowski will be spending a lot of time in the backfield at running back, and senior Cruz Montoya will almost certainly be our starting center."
Schematically speaking, United will bring a straight forward style of play to the field. "We're going to be simple both offensively and defensively," Hasseler said. "It has to be simple because we often have players lining up at multiple positions. Other teams that scout us understand we're simple, but we're fundamentally sound and we get the job done. We don't need a ton of plays, we just need to make the ones we have work."
An added benefit to the revamped programs is Oneida/NEW now has enough players to field more than one team. "The best thing we have going right now is that for the first time ever Oneida will have a JV (junior varsity) team," Peterson said. "We currently have three JV games scheduled and we're looking to schedule more."
The Oneida/NEW United team will remain in the MONLPC 8-Man Conference as in previous seasons, however due to the cumulative number of students at both schools they will not be allowed to compete in the WIAA playoffs this season. "At this point in time we are planning on having a jamboree game, or some type of 10th game, at the end of this season," Peterson said. "If everything comes together this season, as we anticipate it will, we'd be competing for the conference championship, but we wouldn't compete in the playoffs."
"This is a work in progress and we're still working out the bugs," Peterson said. "These are good first steps. We've always had good football teams, but we always burned out because we didn't have enough guys. Now with 25 guys dressed on Friday nights we won't have that problem anymore."
"These kids are going to have a lot of fun because it's all about having fun," Hasseler said. "It's never about winning. That comes with hard work and commitment. And that's what we're going to get out of these kids. I'm excited. I think this merger is going to be great and once everybody's on board with the philosophy of what we do and why we do it, they'll buy into it because they'll have fun and win games."
Oneida/NEW United will be on the road to face Elkhart Lake in a scrimmage August 16. United will then open their regular season on the road against Algoma August 23 and return to NEW Lutheran against Wabeno on Thursday, Aug. 29. The team makes its first appearance at Norbert Hill Center against Sevastopol September 6 at 7:00 p.m., and this season's Homecoming game for Oneida will take place October 11 against Florence.