Kali photo/Christopher Johnson
The Oneida Nation was honored by Focus on Energy with its Energy Efficiency Excellence Award. The Nation continues to impress with its energy efficiency projects and optimal operations.
First Row (L-R): Councilman Ernest Stevens III, Waylon Denny, Ray Olson, Jolene Sheil, Senator Robert Cowles, Brad VanEvery, Lindsay Powless, Dave Powless, and Jack Smith.
Back Row (L-R): Gene Schubert, Bill Plamann, Calvin Cornelius, Kevin Rentmeester, Mitch Skenandore, Marcus Cornelius, Mark Engel, John Christjohn, and Mike Troge.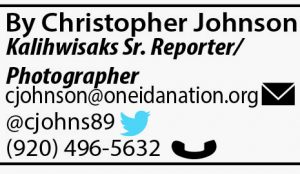 The Oneida Nation was honored with Focus on Energy's 2019 Energy Efficiency Excellence Award during the July 24 Oneida Business Committee (BC) meeting. The Nation received the award for its commitment to energy efficiency and creating a comfortable, safe environment at its schools and other tribal buildings. Focus on Energy is Wisconsin utilities' statewide energy efficiency and renewable resource program that works with Wisconsin residents and businesses to install cost-effective energy and renewable energy projects.
The Oneida Nation partnered with Focus on Energy on several projects in 2018 including a variable volume and controls project, as well as LED lighting conversions with motion sensors, at the Turtle School and Norbert Hill Center. These upgrades will create a more comfortable space for students and staff and will save the tribe more than $55,000 per year in avoided energy costs.
"We've done a multitude of projects through the years and working with Oneida's energy team really makes my job easier," Ray Olson, Oneida Nation's Energy Control Manager, said. "In preparation for these different projects we talk and formulate the best way to use the resources that are supplied to us through the utilities. We've done quite a few projects now and we'll continue to do them, so congratulations to everyone and hopefully we'll be doing this again in a few years."
Focus on Energy's Bill Plamann has worked with Oneida tribal staff for more than a decade to help implement energy efficiency projects and nominated the Nation for the award. "Working with the Oneida Nation has been seamless and enjoyable because of how they proceed with projects," Plamann stated in a recent press release.
Wisconsin Senator Robert Cowles was also on hand to congratulate the Nation for the award. "This Focus program is tremendous," Cowles said. "With the savings you're getting and the benefits to hundreds, if not thousands, of businesses across the state by lowering energy demands this program is incredible. Thank you everyone for being involved with this and keep doing more with it if you can."
Oneida Nation Project Manager Supervisor Michael Troge is quick to praise the various Oneida Nation teams that coordinate these projects. "The Department of Public Works, Facilities, Electrical, and HVAC teams are an asset for the Oneida Nation," Troge said. "Given all the Nation's facilities that need attention, they are very resourceful, knowledgeable of the latest technologies, committed to safety, and always investigate the optimal choices for operations and efficiency. They rank among the highest for project coordination and technical capability."