Brenda Vanden Langenberg works on a sweet swirl basket.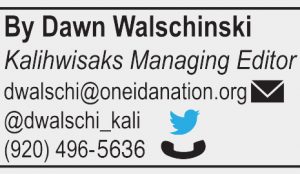 People start drifting into the Oneida Community Education Center Wednesday evening. Members of the Oneida Basket Guild place their projects in process on tables while catching up with their fellow weavers. Tyanne Peebles, president of the guild, takes new members on a tour of the supply room and shows demonstration baskets made by master weavers. Peebles enjoys basketmaking and her guild.
"It's relaxing, there's no real rush to get it done. At work it's always timeline, quota, get it done, here it's just weave – oh and socialize," she said.
The Oneida Basket Guild is open to all skill levels and to all people 13 and older.
"We're open to everybody, we're very inclusive," said Peebles.
Rae Skenandore got her start weaving baskets after taking a class offered by the Oneida Nation Arts Program two-and-a-half years ago.
"I liked weaving, so I started looking for more opportunities, and so I joined the guild, and they were teaching one basket a month, but then the baskets weren't coming fast enough for me, so I joined another guild, the Wolf River Guild, and then I started doing a lot on my own," she said.
Skenandore entered the Woodland Indian Art Show in Oneida in June and won first place in the themed division. She then entered the Northern Woodland Indian Art Show in Hayward, Wisconsin later that summer and won two division first places and best of show.
"Once I started doing the baskets … I went all in right away, jumped off the deep end and I love it," she said.
The guild works with traditional Native American materials such as black ash, birch bark and sweet grass, as well as contemporary patterns and materials like reeds.
"I love weaving. To me, it's relaxing, and the guild is a real open environment, they're very helpful, there's a lot of beginners, it's sociable," said Skenandore.
Membership to the Oneida Basket Guild is $30 a year and the cost covers most materials needed for projects.
"If you did a basket a month, that's basically covers 12 baskets of supplies plus the instruction," said Skenandore.
The Oneida Basket Guild meets the first and third Wednesday of the month from 5:00pm to 8:30 pm and holds a beginner's class the third Saturday of the month 10:00am to 2:00pm. The guild meets at the Oneida Community Education Center at 2632 Packerland Dr. Be sure to check out the basket makers at Artstreet August 23-25 in downtown Green Bay.