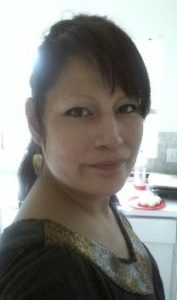 Renessa Marie Blue Bird, 41, Oneida, July 24, 2019. She was born April 1, 1978 to Pamela Sitting Bear her mother and Jeffrey Sitting Bear Sr. her father, and George Blue Bird Sr. her father. Renessa attended Seymour High School and I.T.T.Tech. She had worked at Oneida One Stop as a retail cashier.
During Halloween season Renessa would volunteer her time at an area haunted house Green Bay Fear, she also volunteered her time at the Optimist Club Festival.
Renessa enjoyed the outdoors, especially camping, swimming, traveling to Florida, which brought her so much peace. She also liked watching TV, especially Jeopardy and Wheel of Fortune. Renessa loved watching the Packers and listening to her favorite Band, Red Hot Chili Peppers. It was the time spent with her children though, that meant the most to her.
She is survived by her partner Chris Pursley, her children; Damon Elm (Brennen), Gavriella Van Boxtel, Christopher Blue Bird, Violet Blue Bird, and Cecilia Blue Bird. She is further survived by her mother and father Pamela Sitting Bear and Jeffrey Sitting Bear Sr. and her father George Blue Bird Sr. Her siblings; Christina Blue Bird (Shane Thomas), George Blue Bird, Geneva Sitting Bear (Dusty Teller), Sondra, Jeffery Jr., Harold, Janice, Jennifer, Andrew, Iona, Lena, and Mary. Maternal grandmother Marilyn Danforth, numerous Aunts, Uncles, Cousins, as well as an Aunt too many nieces and nephews.
She was preceded in death by the following loved ones; Tyrone Elm, Grandma Vi, Grandpa Tom, and John Mullins.
Friends may call after 4:00PM Monday July 29, 2019 at Oneida Longhouse W370 Reformatory Rd., Seymour, until time of service on Tuesday at 10:00AM with Bob Brown presiding. The Oneida Hymn Singers will sing at 6:00PM Monday. Burial will take place in the Oneida Sacred Burial Grounds. Ryan Funeral Home, De Pere is assisting the family.
Special thanks to the medical teams at St. Mary's, Bellin, and Froedtert Hospitals. Extending much gratitude for all the people that kept Renessa in good thoughts, prayers and ceremonies, throughout her time of need.