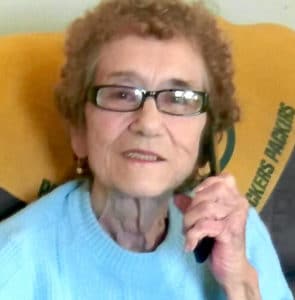 Jean C. Behnke, age 84, of Wittenberg passed away Friday, July 19, 2019 at Aspirus Wausau Hospital.
The former Jean Carol Erickson was born on April 7, 1935 in the Town of Seneca, Shawano County, to Carl and Dorothy (Denny) Erickson. Jean grew up in the Bowler area where she attended Bowler High School.  In her early days, she worked as a saleswoman for Kartz Mobile Home Sales in Aniwa.  Then she owned and operated several different taverns for many years in the Shawano County area.  Jean married Orland "Bud" Behnke and the couple shared some good years together before he preceded her in death.
Jean was a longtime member of Immanuel Lutheran Church, Town of Morris. She was active in the Shawano County Tavern League.  Jean was an Oneida Nation member and very proud of her Native American cultural heritage.  She liked listening to old country and polka music.  Jean enjoyed taking care of her flowers, watching the Packers play, visiting with people, and winning at the casino slot machines.
Survivors include five children; Susan Rozelle of Iron Belt, WI, Debra (Sixto) Balanquit of Watauga, TX, Glenn Schmoll of Milwaukee, Jeffrey Cottor of Tigerton, and Leanna Cottor of Elderon. There are five grandchildren and six great grandchildren.  There are five siblings; Reuben Erickson of Bowler, Charles Erickson of Milwaukee, Diane (friend John) Cerveny of Gresham, Karen (Donald) Wurth of Gresham, and Ralph (friend Cindy) Erickson of Bowler.  There are three sisters-in-law; Barbara Erickson of Shawano, Grace Erickson of Kenosha, and Pamela Erickson of Shawano.  She is further survived by many nieces, nephews, other relatives and friends.
Jean is preceded in death by her parents, her husband, one sister, Helen; four brothers, Roger, Herbert, Gary, and Andy; and her faithful golden retriever mix, Harry.
Memorial Service will be held on Saturday, July 27th at 11:00 AM at Immanuel Lutheran Church, Town of Morris. Pastor John Hielsberg will officiate and inurnment will follow in the parish cemetery.  Visitation will be held on Saturday from 9:00 AM until time of service at the church.