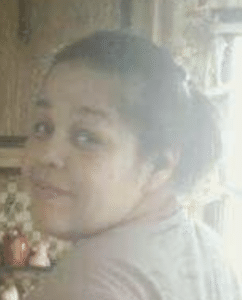 Rosemary P. Williams, 39, Oneida passed away Wednesday morning July 17, 2019 in Milwaukee. She was born April 11, 1980 to Kathleen Robinson and the late Roger Williams.
Rosie enjoyed spending time with her grandson, cooking out, going for a swim and watching the Packers.
She is survived by her children; Roger Carl Williams, Jerry Michael Williams, Patricia Ford, Barbara Ford, Rosemary Williams, and her grandson Adrian Williams. She is further survived by her mom Kathleen, and her siblings; Judith Williams, Roger (Holly) Williams, Gerald Thomas Williams and Michael (Lesly) Williams. She was preceded in death by her father Roger in 1982.
Friends may call after 9:00AM Monday July 22, 2019, at Oneida Methodist Church, until time of service at 11:00AM. Oneida Hymn Singers will sing at 10:30AM. Ryan Funeral Home, De Pere is assisting the family.
Special thanks to Froedtert Hospital and staff.