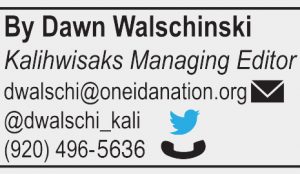 A week-long program offering indigenous breastfeeding counselor training attempts to build a bridge to traditional childcare practices lost during the boarding school era.
Camie Goldhammer (Sisseton-Wahpeton) and Kimberly Moore (Navajo) led the five-day Indigenous Breastfeeding Counselor Training Monday, July 15 through Friday, July 19 at the Wingate Hotel. The free training had 25 participants from the Oneida area and from other tribal communities and was sponsored by Great Lakes Intertribal Council.
"We spend time on historical trauma and unresolved grief, and how that effects our mothering, how we were mothered, how the women were helping mother," said Goldhammer who developed the curriculum.
Native American women tend to trail other racial groups in breastfeeding rates. One reason is a lack of support for breastfeeding mothers, according to Oneida Community Health Center Prenatal Coordinator Candi Cornelius, RN.
"I work with prenatal clients, I see a lot of interest in wanting to breast feed, but then a really hard time continuing because of a lack of support. I myself got certified as a certified lactation consultant," said Cornelius.
"We definitely know that poverty plays a roll, women have to return to work very soon, they may not have access to breast feeding education support which is what we're hoping to address," said Goldhammer.
The training works to create a support network of peer counselors within Native American communities.
"We have an extreme lack of Native lactation consultants in the US and Canada and so this is really the idea around this is to really fill that need and fill that gap," said Goldhammer. "Breast feeding is a cultural practice and a traditional practice. And like many of our cultural practices and traditional practices were lost, stolen, removed, forced to be forgotten … to where there's no culture memory of this anymore. So, it's really about reclaiming that practice and looking at it as not just a way to feed a baby but as an actual traditional practice that we need to reclaim and reintegrate into our communities."
The training is open to anyone identifying as indigenous.
"Giving back to our community is very important, I think especially if women can come together and carry each other, and also it's a healing part of our people and it's been taught for generations, and I think that's what we can share and how the women here can embody that with their own traditions and culture," said Moore.
The training covers historical practices as well as the basics of breastfeeding such as how to hold the baby and the biology of lactation. Trainees can come from many backgrounds and can choose the level of support they want to give lactating mothers.
"It could be high fives and cheerleading to actually doing home visits," said Goldhammer. "We just provide that knowledge and what they do with it is up to them."
For more information about breastfeeding support, contact Candi Cornelius at 920-869-4940.