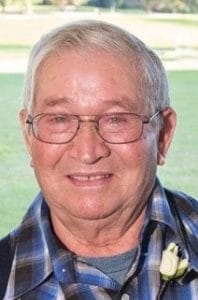 Raymond P. Van Den Bloomer passed away on July 10, 2019 at Country Villa Assisted Living at the age of 85. Raymond was born on May 8, 1934 to Albert and Josephine (nee Skenadore) Van Den Bloomer in Kaukauna. Raymond was joined in marriage to Bonita "Bonnie" Henrickson on June 24, 1983.
Raymond loved spending time at his cottage in Lakewood for 32 years. He enjoyed putting on his straw hat and riding his lawnmower, cutting his grass and lots of tree roots. He also worked on old cars and took pride in starting his lawn mower projects in "one pull". Ray made many friends in Lakewood and wherever he went through life. Prior to his retirement, Ray was employed by Chicago North Western Railroad and Roger Bowers and Sons Construction in Kaukauna for over 40 years.
Raymond is survived by his loving wife Bonnie; his children Peggy Kessal, Shari (Dennis) Solberg, Gale (Cliff) Kruse, Sheila (Pete) Losse, Brenda Brown, and Shane (Karen) Van Den Bloomer, step children Lance (Carrie) Balke, Shawn Balke, Brian (Heather) Balke, and Charlene (Ron) Thomas; his sister Carol Jean Chosa, and many grandchildren, great grandchildren, nieces, nephews, other relatives and friends.
Raymond is preceded in death by his parents, his former wife Betty Van Den Bloomer, his infant daughter Renee, grandchildren Ryan Beavers and Chaz Brown, and other dear family and friends.
The funeral liturgy for Raymond will be held at Holy Cross Catholic Church, 309 Desnoyer St, on Tuesday, July 16 at 11 :00 AM with Fr. Don Everts officiating. Visitation will be held at the church from 10:00 AM until time of service. Additional visitation will be held at Fargo Funeral Home, 400 W. Wisconsin Ave on Monday, July 15th from 5:00 PM to 7:00 PM. Interment at Holy Cross Cemetery.
Memorials to the Humane Society in Raymond's name are appreciated. Raymond's family would like to extend a thank you to the staff and caregivers at Country Villa Assisted Living, the Heartland Hospice team, and especially to Tammy for her voice. You were his angels and your compassionate care will not be forgotten.