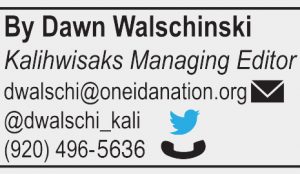 Presley Cornelius, age 20, is making the most of her sponsor exemption into the 2019 Field to play in the Thornberry Creek LPGA Classic being held July 2-7.
"It's just an awesome opportunity to go out there and represent Oneida," she said. "I definitely want to network with some people. Hopefully, it will give me an inside look of what could be and how this works."
Cornelius got her start on the links through Thornberry Creek at Oneida's Junior Golf Program in 2013.
"My brother (Payton) had done the juniors program here at Thornberry. The next summer, which is when I started, he said 'hey, you should come out and do this with me.' And so, I gave it a shot."
Cornelius was a softball pitcher before she began taking golfing seriously.
"That summer that I started, Kokomas White was helping out with the Juniors Program, and he saw something in me and he said 'hey, you should try out for the Indigenous Games.' So, I ended up doing that the next summer," she said. She came in eighth place in 2014 and took third at the games in 2017.
"Coming from softball, it's been a different kind of physical toughness. You have to be strong to hit, or I pitched, and I have to have strong leg muscles, things like that, whereas in golf I think if you're mentally ok with everything or how the game is going, and you're able to think positively, you can have a great outcome," said Cornelius.
Cornelius golfed for Green Bay Southwest High School through her sophomore to senior year. She participated in other tournaments and practiced her game to get ready for this year's Thornberry Creek LPGA Classic.
"My dad kind of planted the seed in my head and was like, you know, this could be something, it's a great opportunity and it's right around the corner from home," she said. "I'm hoping I can open a door a bit and show (young golfers) like, hey, when there's opportunity you got to take them, you got to risk it and it's worth it."
Cornelius is currently attending Northeast Wisconsin Technical College and plans to transfer to either the University of Wisconsin – Green Bay, or Western New Mexico University.
Preston is the daughter of Rick Cornelius and Bridget Mendolla-Cornelius. Her coach and caddy for the LPGA is Kokomas White.