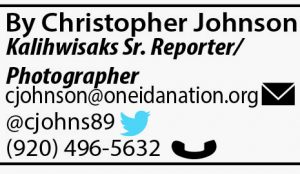 The Native American Drug and Gang Initiative (NADGI), the Brown County Drug Task Force, and other State of Wisconsin law enforcement agencies have conducted a wide-sweeping operation resulting in the arrests of more than two dozen people in the Green Bay metro area. Those arrested are suspected of being involved in a large-scale drug ring with possible Mexican cartel ties.
According to Oneida Nation Chief of Police Eric Boulanger the investigation remains ongoing, therefore more information will be released at a later date. "There were multiple search warrants executed in the area and NADGI, in collaboration with other agencies, conducted one of them here in Oneida," Boulanger said. "During the execution of that search warrant NADGI was able to seize drug paraphernalia and weapons. This is a fluid situation, so if there are more ties to the reservation we'll be involved with it. We were brought on because one of the players was in our area, so we were asked to assist."
The suspected leader of the drug ring, Ruben Ortiz, 36, got his 17-year-old son Franklin Ortiz, his 58-year-old mother Nancy Skenandore, and 29-year-old sister Stephanie Ortiz involved in the conspiracy, prosecutors alleged during court appearances June 18. Stephanie Ortiz is a co-founder of Black Lives United in Green Bay and a member of End Domestic Abuse Wisconsin.
Others arrested in the operation and making court appearances:
Alejandro Lopez, 37, was found with a kilo of cocaine and several firearms when arrested.
Jonathon Patton, 37, owner of Cover 2 Sports Bar and Lounge on Green Bay's near east side. Prosecutors say Patton used the bar for money laundering purposes related to the case. Patton is the brother of former Green Bay Packers superstar Charles Woodson.
Cedric Cohen, 41, described as "one of the primary right-hand people to Ruben Ortiz" by prosecutors. Cohen allegedly purchased up to 2 pounds of marijuana per month from Ortiz. When arrested large amounts of cocaine was found in his residence.
Darin Walls, 36, accused of selling cocaine, marijuana, and heroin.
Raeden Metoxen, 20, Laura Gonzalez, 22, Melanie Abundiz, 23, Zsatavia Vales, 22, Ingrid Sanchez, 32, Benjamin Thurber, 24, Jovan Rush, 21, Maximillano Garcia, 21, and Arreon Purnell, 21, also made initial appearances in Brown County Court related to the ongoing investigation.
More information is expected to be released in the coming weeks which will provide an in-depth outline regarding the charges filed against those involved, the scope of the drug operation, and possibly what Mexican cartel links may exist. The Kalihwisaks will continue to monitor the situation and provide updates as information becomes available.