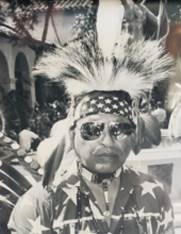 On June 11, 2019, Alfred L. Sarnowski, (Acowapa Wichaste), Age 78, of Sisseton-Wahpeton Dakota Ovate, started his journey to the Spirit World. Alfred was born to Kathryn DeMarrais in Sisseton, South Dakota in September 1940.
Al grew up in South Dakota at Tekawitha Orphanage in Sisseton and Flandreau Indian High School before moving to Chicago, Illinois. On August 23, 1958, Al married Sharon K. (LaMotte) Sarnowski, Oneida, 78 and they would have celebrated their 62nd wedding anniversary this coming August.
Alfred had a remarkable career: He earned his Bachelor's Degree in Criminal Justice from Cal State University, San Bernardino, California and worked for Los Angeles County as a Deputy Probation Officer, Gold Badge Holder. He also sat on the County's Cultural Adversity Committee as the only Native American Deputy Probation Officer in all of California.
Upon retiring in 1996, the family moved home to Oneida where Al worked for the Menominee Tribe as an investigative police officer and then Security Corporal for the Oneida Casino.
Spiritually, Al was a Sun Dancer at Buffalo Lake, South Dakota; he was also a proud Men's Traditional Dancer at powwows. Al was a lifelong Chicago Bears fan, loved "monster shows", and enjoyed playing slots in Las Vegas, South Dakota, and Wisconsin Casinos.
He is survived by his wife Sharon Sarnowski and their children; Tammy (Cliff) Webster Jr., Sandra (Bryce) Thomas, and Christina Sarnowski (Ignacio Ruiz). Grandchildren; Kateri (Geronald) Skenandore, Robert Waci-Wambdi Diaz, Alan L. Wambdi Wah-ku Thomas, Justine Sarnowski, Justin Sarnowski, and Andrew Ruiz, and two great grandchildren. His siblings; Veronica Lopez, Norma Robertson, Alvis Robertson, and Pamela Robertson, and Aunts Lillian Owen and Theresa Peters, Bernice Patenoude, and Francis Eagle (Sundance partner and cousin.), as well as many cousins, nieces and nephews.
He was preceded in death by his son Scott Alan Sarnowski, his mother Kathryn, his siblings; Lori DeMarrais-Negron, Joanne Metzger, as well as Kunsi Ella Wanna, his Aunt Sister Irene De Marrais, and Aunt Clara Eagle.
Friends may call after 1:00PM Saturday June 15, 2019 at Ryan Funeral Home 305 N. Tenth Street, De Pere until time of service at 5:00PM. Please go to www.ryanfh.com to send online condolences to the family.
The family of Alfred L. Sarnowski, in deep gratitude, thanks Dr. Michael Flood and all the tender caring staff at Anna John Nursing Home, Unity Hospice, Oneida Health Center, and Oneida Elder Services. Al's lifelong friend, Patricia Powless was also at his bedside.
One Response to Sarnowski, Alfred L "Acowapa Wichaste"
Reggie Skenandore Jr says: June 28, 2019 at 12:41 am

I am so sorry for your loss, I was on vacation and unaware of Al's passing. My prayers go out to the Sarnowski family. I miss you all and hope to see you in the near future. friends are to precious to take for granted and I will try and be a closer friend in the future. take care.