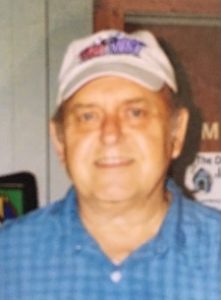 Mark Paul Walschinski died peacefully at home Thursday, June 6, 2019 surrounded by his family. He was born November 4, 1943 to the late Stanley and Rosalie (Joppe) Walschinski in Green Bay, Wisconsin.
Mark proudly served in the Marines during the Vietnam Era 1961-1965 and received an honorable discharge. He was united in marriage to Charlotte Webster September 30, 1967.
Mark was a long-time member of the Knight Riders Snowmobile Club in Suamico. Mark enjoyed traveling, especially spending winters in Panama City, Florida to visit his niece Lavern Lange-West, playing cards with family, and visiting area casinos (and winning!).
Mark is survived by his wife of 51 years Charlotte, son Chris, daughter-in-law Dawn, Brothers and Sisters, Jack Walschinski, Jean Sprangers, Stan Walschinski, Paul Walschinski, Ann Walschinski (Rose), Dave Walschinski. He has many nieces and nephews. Mark is also survived by his wife's brother Kenneth Webster, his wife's sisters, Mary Prescott, Genevieve Gollnick, Catherine Webster, and Alice Smith, and many nieces, nephews.
Mark was preceded in death by his parents, and his brothers, Tom Walschinski, Bob Walschinski, and Norbertine Priest, James Walschinski.
He was also preceded in death by his wife's siblings, LaVerne, Thomas, Adam, Cletus, Gerald, and her sisters' Evangeline Constance Delgado, and Teyulelu (Debra) Cornelius.
Family and friends may call at Cotter Funeral Home, 860 N. Webster Ave., De Pere on Saturday, June 8, 2019 from 3:00pm to 4:00pm. A prayer service will be held at 4:00pm. Full military honors will follow. Interment will be in Allouez Catholic Mausoleum, De Pere. Cotter Funeral Home and Cremation Care is assisting the family. Online condolences may be expressed at www.cotterfuneralhome.com.
A special thank you to the Oneida Police Department and Aurora Hospice for their kind care of Mark.