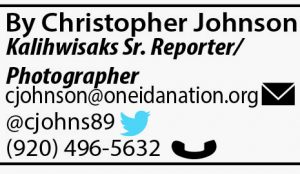 Several tribal Big Bear Media and Museum staff personnel had an opportunity to view the Oneida Nation's Tribal Belt June 3 at Chicago's Field Museum. Michelle Danforth, Christopher Powless, Eric Doxtator, Leah Stroobants, Christopher Johnson, Nate Gerhardt, and Louisa Mehojah made the journey to the Windy City to view and photograph the sacred relic.
According to Oneida condoled Bear Clan Chief Bob Brown, the belt dates back to the pre-Revolutionary War period and made the journey to Wisconsin (then Michigan Territory) with the first group of Oneidas from their ancestral homelands in the early 1820s. The belt was in the care of Chief Elijah Skenandoa who refused to sell the belt for any amount of money. After Skenandoa's death, his grandson sold the belt to collector Walter C. Wyman who in turn sold the belt to the Field Museum.
The group from Oneida made the trip to the Field Museum to view the belt as part of a larger Big Bear Media project which will commemorate the 200-year anniversary of the arrival of the Oneidas from their original homelands in present-day upstate New York. The belt is not on public display at the museum, therefore prior arrangements to view the relic must be made. Oneida Nation members wishing to view the belt are asked to contact Jamie Lewis, Collections Manager at the Chicago Field Museum, a few weeks prior to the intended date of their visit. Lewis can be reached at (312) 665-7835. There will be a one-page form to be filled out and returned prior to visitation. More information will be coming soon on how to simplify the visitation process.