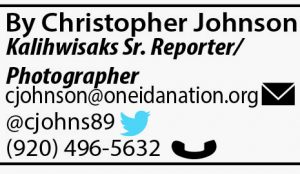 Oneida Nation citizen Nancy Dallas recently set a first for herself and for the tribe. Dallas has graduated from Piedmont Technical College in Greenwood, S.C., with her associate degree as a Funeral Director/Embalmer, becoming the first female and only the second person in the tribe to hold this degree.
"I wanted to get into this field because I thought it would be something different for myself and I'd be able to use this in the future to help our tribe out," Dallas said. "I thought I'd give it a shot and see how it would work out. I am proud to say I was notified that I'm the first Native American woman from our tribe to graduate with this degree and I'm also the first Native American to graduate from the Piedmont Funeral Services program."
The challenging two-year program included coursework on cremation and embalming. "I convinced my Director of Funeral Services to bring in a speaker from the National Funeral Directors Association from Brookfield, Wis., to discuss cremation," Dallas said. "Following the training session we needed to take a test within two weeks, and get a passing grade of 80 percent or better, which I passed. I am now able to cremate anywhere in the United States."
She thoroughly enjoyed the program and had her share of favorite classes. "I enjoyed learning about being a Funeral Director, and embalming was my favorite subject," Dallas said. "In our last three semesters we spent a day cremating animals and the next day was spent embalming. Certain courses were difficult because it was like taking classes to become a medical doctor. At times I wanted to give up but I kept strong with the help of my friends and fellow graduates Charlotte Jensen, Julie Peddleton, and Jessica Cardona. The three of them kept me motivated and gave me the strength to finish this degree. I can't thank them enough."
Her graduation ceremony from Piedmont Technical College was an exciting event for Dallas, especially when she received her official graduation pin from the Funeral Services Program. "I really enjoyed the day of graduation in which we had our ceremony for the Funeral Services program, and then I had (Piedmont Technical College Accounting/Business Instructor) Richard Mandau pin me, followed by our giving our oaths of office at the school," Dallas said.
Dallas is aware she is a unique individual who has received a rather unique degree. "You need to be a special individual that can handle circumstances that happen in the world," Dallas said. "(I'll be) helping families in need and giving them less stress in making funeral decisions."
Increasing awareness of the little-known option of "green burials" is also something she is passionate about, Dallas said. "I would like to be more proactive about telling our people about green burials as many people are not aware of this type of funeral process," Dallas said. "It's an option our ancestors did many decades ago. A green burial is when a person wants to be buried in a blanket or a biodegradable casket, the option is theirs on how they want to be returned with Mother Earth. Only certain cemeteries allow this, for instance people down south people are more poverty stricken than northerners so often they can't afford thousands of dollars for a casket. A lot of funeral homes won't tell you about this option because they'll lose money when people won't buy their caskets."
Dallas would like to continue her education which, in all likelihood, will provide her with plenty of future employment options. "My goal now is to take my National Board Certifications and get my apprenticeship done," Dallas said. "I would also like to finish my Bachelor of Arts Degree in Business Marketing and use that degree to open a funeral home on our reservation. I would like to give our people more choices to go to in a time of need."
Dallas is grateful for the opportunity and support she received while on her academic endeavor. "I would like to thank my family for giving me the support to finish this program," Dallas said. "Especially my parents Milton and Nadine Dallas. My grandparents would be surprised that I graduated with this degree. I would also like to thank the Oneida Nation and my instructors for taking the time and giving me the opportunity to receive this degree and I look forward to using it in a few years."
Dallas is the daughter of Nadine and Milton Dallas. She is the granddaughter of Nancy and Anderson Summers, and Gladys and Raymond Dallas.