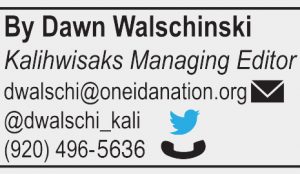 Wayne "Buggin" Malone drove 12 hours to Winnipeg, Canada to attend the Indigenous Music Awards show held Friday, May 17, where he was nominated for Best Rap/Hip Hop Album category for his release of Humanity Vol. 1.  Malone faced stiff competition from Canadian rapper HellnBack.
"You hear people howling for him when they announce the nominees and you think 'ah, this trip was for nothing,' and I'm thinking 'ah, man, I hope I win,' and they called my name and I was just surprised," said Malone.
It was the first award Malone has won in 13 years for an album he created after a seven-year-hiatus from recording.
"Our kids can see this guy is 43 years old and he's still putting out albums, winning awards, that's perseverance," said Malone.
While accepting the award, he dedicated it to "murdered and missing indigenous people, and our children, our youth, our future."
"I talked a little bit about what the anniversary date meant to me due to something I got caught up into when I was a teenager. I was locked up when I was 15-years-old, and I ended up at the Oneida Group Home when I was about 17, almost 18 years old. During that time, my crisis in my teenage years, during that time I dedicated and committed my life to just help people, to just to be there for people, support people, bring happiness to people," said Malone. "I ended up going to Lincoln Hills and ended up meeting Kirby Metoxen and Stan Latender. I was in the group home and Gina Powless, Eric McLester, all these people were in my life and I committed and dedicated myself to lighting and helping our people."
Malone uses his music to highlight issues affecting Indian country.
"I use hip hop as a tool to define our struggles for the world," he said. "I consider myself to be the voice for the voiceless."
He hopes the award will garner more attention for his music and create opportunities to spread his message.
"It's going to focus on the key issues like … our murdered and missing indigenous people … and our epidemics with our opioid use and the drug addiction and the suicide rate, it's just alarming, there's just so many things that need to be discussed, and that's what I want to take on the road," said Malone.
Malone is making plans for a tour of Canada as well as looking for opportunities to perform in Wisconsin. Malone has also started work on his next recording Humanity Vol. 2. He thanked his fans for all their support through the years.
Malone is the grandson of Comey Denny Jr.
To download or order Malone's recordings visit https://itunes.apple.com/us/artist/buggin-malone/1
or
https://store.cdbaby.com/Artist/BugginMalone1
To book a show email contactbuggin@gmail.com