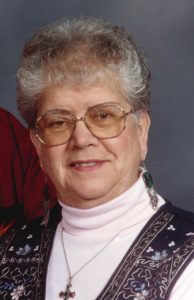 Dorothy J. Skenandore, 91, Oneida, passed away peacefully at her home on Tuesday, May 14, 2019. On August 9, 1952, she married Phillip Skenandore at Oneida Methodist Church.  Dorothy took great pride in being a mom and Grandmother.  She enjoyed babysitting and visiting with people.  Dorothy also liked tending to her flowers and watching birds.  She was an active member of Oneida Methodist Church.  She is survived by her children, Phil (Connie) Skenandore, Tina Cottrell, George (Lisa) Skenandore as well as numerous grandchildren and great grandchildren.
She was preceded in death by her parents, Claude (Ella); husband Phillip, two children, Joyce Skenandore and Rose (Earl) Tipler, as well as her siblings.
Friends may call at Oneida Methodist Church after 9 am Friday, May 17, 2019 until the time of service at 11:30am with Lay Servant Jeremiah Cottrell-Duebner, her grandson officiating.
Special thanks to Neil Cornelius, Lisa Huff, Vicky Johnson and the staff at Oneida Healthcare Center.
Ryan Funeral Home is assisting the family.