Kali photo/Christopher Johnson
Several veteran's organizations and the Oneida Business Committee were in full support of a recent measure declaring the Oneida Nation a Purple Heart Reservation. Only a handful of Native tribes hold this distinction.
Front (L-R): VFW 8th District Commander Chris Cornelius, Councilman Kirby Metoxen, Secretary Lisa Summers, Wisconsin MOPH Chapter 164 Commander George Greendeer (Purple Heart), Chairman Tehassi Hill, Roger Metoxen (Purple Heart), and Councilman Daniel Guzman.
Back (L-R): ONVAC Secretary John Breuninger, MOPH State Chaplin Al Johnson (Purple Heart), Councilman David Jordan, MOPH Chapter 164 Vice Commander and VFW Post 7784 Commander Cletus Ninham (Purple Heart), and Oneida Veterans Services Manager Kerry Metoxen.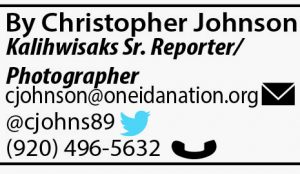 To help remember Oneida Nation veterans who were wounded or killed in action the Oneida Business Committee (OBC) took official action and proclaimed the Oneida Nation a Purple Heart Reservation during the April 24 OBC meeting. This resolution recognizes the service and sacrifices made by combat wounded Oneida Nation veterans and makes Oneida one of only a handful of Tribal Nations across Turtle Island to hold this designation. The Oneida Nation Reservation signs will soon reflect this designation around the boundaries of the undiminished Oneida Reservation established in 1838.
The request for this resolution was brought forward by Military Order of the Purple Heart (MOPH) Wisconsin Commander George Greendeer and MOPH Chapter 164 Vice Commander Cletus Ninham, both combat wounded Purple Heart recipient Oneida Nation Warriors.
"The reason we took on this project is because we're hoping that seven or eight generation from now there will only be a memory of combat Purple Heart veterans killed or wounded in conflict," Greendeer said. "The memory will be a Purple Heart monument to honor our warriors that fought during the various wars."
The Purple Heart is a United States military medal awarded in the name of the President of the United States to those wounded or killed while serving their country in wartime. Numerous Oneida Nation Warriors have distinguished themselves in combat across the ages fighting to protect two governments under two flags: the Oneida Nation and the United States of America.
Although a work in progress, here are the names of some brave Oneida Warriors who are known at this time to have received the Purple Heart: Cletus Ninham (U.S. Army, Vietnam), George Greendeer (U.S. Army, Vietnam), Roger 'Reggie' Metoxen (U.S. Army, Vietnam), Junior Parker (U.S. Army, Korea), Leon House (U.S. Marine Corps, Vietnam), Eastman Skenandore (U.S. Army, WWII), Ernest Skenandore (U.S. Army, WWII), Dave Cannon (U.S. Army, WWII), Edmund Powless (U.S. Army, WWII), Frank Summers (U.S. Army, Korea), Roy House (U.S. Army, WWII), Valdor John (U.S. Army, Korea, Vietnam), Joseph Metoxen (U.S. Army, WWII), Marty Antone (U.S. Marine Corps, U.S. Army, Operation Iraqi Freedom) and Jerry Metoxen (Branch unknown, Vietnam).
One such story of combat heroism is that of Ninham as written by Oneida Nation Secretary Lisa Summers in a recent memorandum. Summers wrote that Ninham was drafted into the United States Army during the Vietnam War. Following Basic Training, Advanced Infantry Training, and Airborne Jump School, Ninham was sent to Vietnam and assigned to the 173rd Airborne Division and later reassigned to the 101st Airborne.
On Ninham's first combat mission, his platoon came under heavy enemy fire which killed or injured many of his brothers-in-arms. Ninham and his platoon sergeant attempted to retrieve their wounded lieutenant, but in the ensuing rescue attempt the sergeant was also hit requiring Ninham to now try to save both men. Under heavy enemy fire, Ninham heroically managed to bring both men back to cover. Ninham was later awarded the Bronze Star with a "V" for valor for his actions during this mission.
Later during the same deployment, Ninham's team was sent on a search-and destroy mission in the Vietnamese highlands with orders to take down a Viet Cong stronghold. During the mission one of his platoon mates stepped on a booby-trap which exploded and severely injured several soldiers, including Ninham. Near death and with shrapnel wounds riddled throughout his lower body, Ninham was forced to endure more than a day of unimaginable pain without morphine as he waited to be airlifted out of the area. He survived his ordeal but had to undergo several surgeries while recovering from his life-threatening wounds. While in recovery, Ninham was awarded the Purple Heart, and approximately one month later was right back in action with the 327th Infantry Regiment of the 101st Airborne Division.
Ninham finished up his tour of duty in Vietnam a few months later and eventually returned home to Oneida. He now serves as Commander of the Oneida Veterans of Foreign Wars (VFW) Robert Cornelius Post 7784.
"This (Purple Heart Reservation designation) is a great accomplishment to be able to honor all the wounded men and women who've served in all the wars from the Revolutionary to the present," Ninham said. "A lot of people don't realize that, being a sovereign nation, Oneidas fought under two flags to protect two nations that are one home. It's times like this that make me proud to be an Oneida and a veteran. I just want to say, 'Thank you,' to all the people that were involved in making this come about."
The Oneida Nation is currently in the process of compiling a more comprehensive list of combat wounded Oneida Warriors who have received the Purple Heart. If there are any recipients, relatives, or friends of recipients who are aware of any Oneida citizen who received the Purple Heart but is not listed in this article, please contact VFW 8th District Commander and Executive Assistant to the Secretary Chris Cornelius at (920) 869-4434.
The Oneida Nation will also be breaking ground on a Purple Heart Memorial dedicated to recipients of the United States' oldest military medal. The ceremony is scheduled to take place May 18 at the Oneida Veterans Memorial Wall grounds on Highway 54 at 1:30 p.m. The project is expected to be completed by Memorial Day 2020.
"I'm really excited about this project because of what it's going to do for Oneida," Greendeer said. "It's going to help wake up our Memorial park over on Hwy. 54. In addition to the wall and eagle we'll now have a plaque representing the different branches of service. In time as that becomes more popular it will lead to more benefits near the park like washrooms and other things that are needed. One good thing always leads to another."
Special thanks to Wisconsin MOPH Commander George Greendeer, MOPH Chapter 164 Vice Commander Cletus Ninham, Oneida Nation Veterans Affairs Committee, Oneida Nation Veterans Services Office, VFW Post 7784, VFW 8th District Commander Chris Cornelius, Oneida Nation Secretary Lisa Summers, and the Oneida Nation Law Office for their hard work in compiling the information contained in this article and support for this measure.