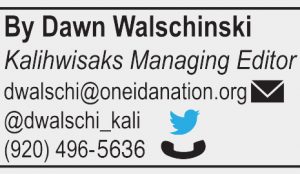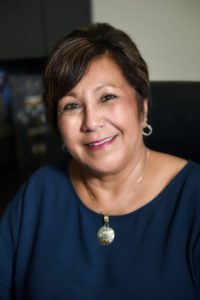 It's been eight years since Deborah Thundercloud was General Manager (GM) of the Oneida Tribe of Indians of Wisconsin. She returned April 7 to the Oneida Nation to restart the role.
"I'm just happy to be back home, and I've been really impressed with how the (Oneida Business) Committee has brought me back on this week. I feel like I've a valued member of the team, and that we're going to have a really good working relationship," she said.
Thundercloud, formerly Danforth, has a long history in Oneida leadership starting as serving as Oneida Business Committee (OBC) Vice-Chairwoman from 1990-1993 and Chairwoman from 1993-1999. She became Oneida's GM and served from 2006 to 2011 until that OBC administration eliminated the position.
"I think this committee has taken a different approach with the General Managers position now that they understand what it's like to oversee the operations. I think they have a little more empathy with what's involved in the role, and what's required and understanding the difference between day to day operations and legislative, and political duties and responsibilities," said Thundercloud.
Thundercloud worked as an executive at Bellin Health and later became Chief of Staff for the National Indian Gaming Association.
"I've been able to create a lot more networks, I visited a lot of other tribal communities in my travels at that position, and understand the bigger picture out there of what Indian gaming has done for Indian Country, and I can bring some of those unique ideas that other tribal governments have implemented in their operations and I have that network to draw from," she said.
Thundercloud wants to bring some of what she's learned to make changes in Oneida.
"Challenging the system to change and to create a new culture so that we're all striving and thriving for a better Oneida," said Thundercloud. "I think all of us have our hearts in the same place, we all want to see Oneida succeed, we all want to have a better future for our kids, so keeping that in mind as our goal, that we'll be able to overcome the challenges that come our way."
Thundercloud has her eyes set on the seventh generation when it comes to her position.
"I really want to work with the youth much more than I did in the past. They're our future leaders," said Thundercloud. "I believe in our nation, and I believe in our ways and I want to have an impact on making sure that our future leaders are going to be prepared to defend tribal sovereignty, to know who they are so that they can be more successful, and so our nation can continue to grow and to build and get stronger."