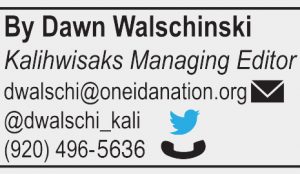 On a wind whipped Wednesday afternoon, the Oneida Nation High School Golf Team got ready for practice at the Thornberry Creek at Oneida Golf Course. The Thunderhawks are hoping to be competitive this season with a full team of five students according to their coach Tahkwatekwa Skenandore.
"In the past it's always been a little bit of a struggle to get a full team, so as far as the meets go, if you don't have a full team you don't get all the points. This year we're looking forward to having a full team, so we should be able to compete with most of the teams," he said.
The five-man team struggles to attract players amidst other spring sports like lacrosse, softball and track.
"It's a small school, lacrosse has a huge following which is cool. It's always been a little bit of struggle," said Skenandore.
Senior golfer Justin Hill has been playing for the Thunderhawks since his freshman year. He enjoys the more laidback atmosphere of the links.
"It's nice to meet new people, get out, and hit balls around and have fun," said Hill.
"Each year he's gotten better. This year we're looking to him to be our number one seed," said Skenandore.
Hill attributes his improvements to Coach Skenandore.
"He's a good coach, he teaches us a lot, tells us what we're doing wrong, helps us fix it," said Hill.
Skenandore helps instill the self-discipline required for the game
"Golf is a unique sport where you are your own referee. We teach them the rules, I've always stressed it's an etiquette sport, so be on your best behavior and enjoy the outdoors and just do the best you can," he said.
The Thunderhawks Golf Team will play Thursday, April 18 at Hunters Glen Golf Club in Crivitz at 1:15pm. Matches may be rescheduled due to weather or course conditions.