Thunderhawks senior Emerson John fires a shot on goal during a recent practice as head coach Curt Summers watches. Summers anticipates John will have a great 2019 season and provide on-field leadership for the T-Hawks.
Kali photo Christopher Johnson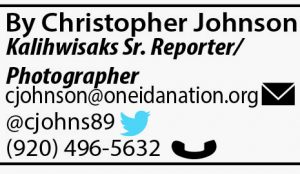 The Oneida Thunderhawks Lacrosse team heads into their 2019 season largely intact from last season's roster. Although the team lost three players to graduation in 2018, the T-Hawks have brought in several young players to help replenish a team that's looking to make a splash in the Bay Valley Lacrosse Association.
"We did lose a few guys to graduation but a lot of our juniors and seniors, as well as our younger players coming up this year, will help make up for that," Curt Summers, now in his seventh season as the Thunderhawks head coach, said. "As far as the numbers go we're pretty comfortable with having around 15-18 players. Believe it or not, we're probably the smallest team in the state but we usually maintain a core dedicated group of players and last year we finished up with about 14 guys. The numbers change from year to year, but it always works out."
Summers, who has played the Creator's game since his grade school days, is proud of the opportunity to pass on the teachings of lacrosse to the younger generations. "For us it essentially starts when we work with the little guys in the youth program," Summers said. "From the time they first pick up their sticks we're there to teach them the significance of this game and the history of it as far as where it originated with our Haudenosaunee people. Everything that goes along with it culturally, like the game and our language, are taught so they understand the importance of this game to our community, our people, and them as players….as well as their responsibilities as players."
Organized lacrosse didn't always exist in Oneida and Summers is quick to give credit where credit is due. "The people who really got organized lacrosse going here in our community were the Ninham brothers," Summers said. "Without Paul and Dan Ninham, I'm not sure we'd be even be where we are today. They were the ones who organized practices and tournaments for us back in the day. Often the closest tournaments we participated in were in Illinois and southern Wisconsin. Fast forward to today and now we're conferenced up in the Bay Valley Lacrosse Association. So, we've come a long way."
And even though the Thunderhawks are one of the smallest teams in the state, the fact that many larger programs want to play them speaks volumes about the reputation the T-Hawks bring to the field. "We're getting calls from some of the bigger schools in southern Wisconsin wanting to get us into their schedule, so we've added three or four non-conference games," Summers said. "To our credit these are some big schools that are really good. We take them because for us to get to that next level our guys need to be able to take on teams of that caliber."
Of course, the backbone of the team are its players, and Summers will be looking for several team members to help set the tempo for the season. "One of our fourth-year players we're counting on is Emerson John," Summers said. "He's been phenomenal and makes his presence felt on and off the field. His work ethic and skill sets are just incredible. Fox Christjohn is another senior who has just gotten better and better every year."
Summers will be looking for Gavin Stingle to provide some defensive leadership. "When it comes to defense he really does his best to get the rest of the guys on the same page," Summers said. "We're expecting good things from him this year."
Some of the younger players finally making it to the high school program will also be gaining plenty of game experience this season. "CJ Summers is our 'X' or face-off guy," Summers said. "He's been a bull at the 'X' and taken just about every single face-off. He's a well-rounded player who's also developed a pretty good mid-range shot so we'll be playing him a little more on offense rather than just defensively. Sophomore Ramon Neosh is smart and quick. He's another one with a good mid-range shot and he'll be one to look out for this year. Dakota Swamp plays attack with stick skills that are next to none. He's sneaky around the crease so if he's open and our guys find him, he's going to finish and score.
"We also have a freshman who came up through our youth program that we think is going to do well," Summers said. "Chaske Jacobs has grown and proven himself with his recent initiation under fire against our recent opponents. We have our youth program to thank for helping develop these younger players who are more seasoned, so we can work more on the 'X's and 'O's instead of the basic fundamentals."
As the popularity of lacrosse continues to grow, look for the Oneida Thunderhawks to make an even bigger impression on fans and opponents alike. "In just the past five years we've picked up four new teams to our conference alone," Summers said. "That shows the interest level in the game is definitely growing and of course as that happens our schedule expands, and we get to play more games."
The Thunderhawks are currently at 1-1 in non-conference play. They begin conference play on April 9 against Southwest High School. Game time is tentatively set for 6:00 p.m.