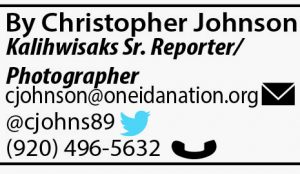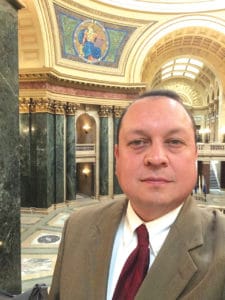 With newly elected Wisconsin Gov. Tony Evers now in office, Oneida Nation citizen Brian Vigue has been brought on as a Legislative Liaison with the Department of Administration (DOA) in the state's capital. Vigue, 46, brings a wealth of knowledge and experience to a department he feels can help move the state forward in many ways. The DOA works closely with the governor's office to help implement their state initiatives.
"I had been working as a lobbyist for the Wisconsin Wetland Association for the past few years which is dedicated to the preservation and restoration of wetlands when Gov. Evers was elected," Vigue said. "I heard about the opportunity here at the DOA to help them do their outreach to the legislature. Having worked in the legislature in the assembly over the years, as well as actively lobbying on behalf of wetlands the past few years, I've gotten to know both Republican and Democrat legislators in both the assembly and the senate. We have pretty good working relationships, so I figured maybe it was something I could bring over to the Evers administration and fortunately I was brought on board."
A 1990 graduate of Green Bay West High School who also graduated from St. Norbert College in 1994, Vigue grew up in Green Bay but spent plenty of time visiting relatives on the Menominee Indian Reservation where his parents grew up. These experiences are what would shape Vigue's future desire to dive into politics as a means to effect change from a poverty perspective.
"I spent a lot of time up on the Menominee Reservation hanging out and playing with my cousins when I was growing up," Vigue said. "I didn't realize it at the time but as I got older I began to realize the grip that poverty can have on a community. It wasn't until I got to college and I had a professor, who was a (former) member of Congress, who showed me that there are ways to constructively use government and politics to address problems in people's lives."
A self-proclaimed "policy nerd" and "do-gooder" at heart, Vigue eventually landed a college internship in 1993 working in Washington, D.C., for former Wisconsin Senator Herb Kohl. "I just really caught the politics bug from that experience," Vigue said. "From there I worked for Congressman Patrick Kennedy and was out there for six years."
A student internship with the Oneida Nation in 1996, where he met his future wife Carla, cemented his political ambitions. The couple was selected by the Oneida Business Committee to attend the Democratic National Convention that same year with then-Oneida Nation Chief of Staff William Gollnick, Vigue's boss at the time.
The couple continued their political adventures together with both eventually finding employment on former Wisconsin Gov. Doyle's staff. Carla ultimately became the Communications Director and Spokeswoman for the Doyle Administration, while Brian was the staffer responsible for arranging what is now known as the State Tribal Consultation Initiative. After working closely with leaders from the state's eleven federally recognized tribes, Vigue says that experience inspired him to strive for improved relations between the state and the tribes. "We wanted to see how we could work together to not only avoid conflict but move the ball forward with making things better in Indian Country," Vigue said. "The state has now finished its fourteenth year of that initiative and I had no idea back then that we'd be this successful."
After several years of living and learning the political ropes in Washington, the Vigue's decided it was time for their growing family to move back to Wisconsin. Brian landed a job in the State Assembly which enabled him to network and eventually opened the door to his newly appointed assignment.
Vigue says newly-elected Gov. Evers is a genuine man and he is looking forward to serving in his new role. "He's exactly like what everybody saw on the campaign trail," Vigue said. "He's a great, easy-going guy who really knows his stuff as he demonstrated when he was the Superintendent of Public Schools. He is a policy wonk at heart and he really sets the tone for the administration. This is hard work but the tone he sets makes it a lot of fun."
As Vigue settles into his new role with the DOA, he's taken some time to reflect on his life's journey and offered some strong advice for the younger generation who might be looking to become change agents in Indian Country. "I sincerely hope that younger tribal members who are looking to do good things think of politics as a vocation they can take up," Vigue said. "I realize this can be a difficult world to break into because it's such a unique industry but there's really a lot of good things you can do. I got my start when I was interning with Bill Gollnick and that's what got me being able to use the different levers of government to help Indian Country."
Vigue points out there aren't a lot of Native Americans choosing to get involved in politics. "We have a lot more Natives going to law school these days," Vigue said. "I really hope that when young people are considering what to do for a living, and want to do good things, that they realize this is a profession you can get involved with.
"We're working as hard as we can down here to help tribal students obtain internships and get them placed in the capital so they can learn how this world works," Vigue said. "The Oneida Nation has been so supportive of me during my career which I am really grateful for, so I certainly hope younger tribal folks realize this is a realistic career they can choose."
Vigue resides in the Madison area with his wife Carla and their two children. He is the son of Bernadine and Bernard Vigue of Green Bay.