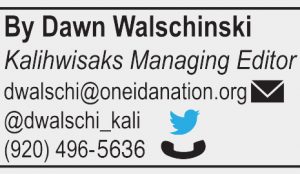 Stana and Ron Neuman needed more space for their business Bikes, Bargains, Etc. in Pulaski. According to Stana, the 1000 square foot building was getting a little crowded.
"At one point we had 200 bikes crammed in here," she said. "I looked into adding on to the building because we own the property, and the village was like we're going to double your taxes."
The two explored getting a storage building and contacted Old Hickory Buildings.
"I was getting into purchasing one, and they asked me, 'hey, you're a business, do you want to sell them?'" said Stana.
Selling Old Hickory Buildings turned out to be a great compliment to their bike business which slows way down in the winter.
"We sold K1 snowboards, that didn't work out, tried snowshoes, tried a lot of different stuff, it just didn't work in the winter. This actually helps business float through the winter," she said.
They have been selling the storage sheds and barns for four years.
"We've had great luck with them," said Stana. "The biggest issue anyone's ever had after purchasing is 'I didn't get it big enough.'"
The buildings are constructed by Mennonites in Rice Lake, Wisc.
"They're built just like a house. If you really wanted to, there's a lot of people that are turning them into tiny homes, cabins, stuff like that. They're all ready for you to put in insulation, drywall, flooring," said Stana.
The Neuman's have samples for sale at their business and can also help with custom orders.
"They have a lot of variations," she said. "They have the barn style which has a loft, and then the utility style that does not have a loft."
Sizes vary from 8 ft by 10 ft to 16 ft by 40 ft.
"The most common is garden shed for the lawnmower, snowblower, stuff like that," said Stana. "I had one guy make his into a tattoo parlor."
They will be adding animal shelters in a few months.
"A couple of ladies customized a small one for their goats," said Stana. "They got one with the loft, so they can throw the hay up top, and there's a little door up top on the loft to where you can pitch the hay out."
The buildings are available in a variety of siding options, colors, and roofing options.
"We can come to you, figure out what you want, and then place the order there right with you," said Stana.
Bikes, Bargains, Etc. offers rent to own options and the building can be delivered and set up anywhere within Wisconsin for free.
"We have people who want a cabin up north, so that's not a problem," she said.
Bikes, Bargains, Etc. is located at 410 E. Cedar Street, Pulaski. For more information call 920-822-2216 or www.bbe.bike/yokala or visit www.OldHickoryBuildings.BBE.bike