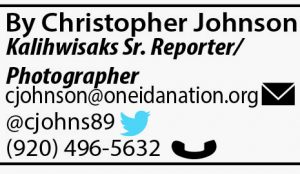 The Oneida Nation, along with Brown, Outagamie, Calumet, and Winnebago counties, has signed on to the Northeast Wisconsin Water Quality Pact to collaborate in the development of plans to protect the region's water basin. Oneida Nation Vice-Chairman Brandon Stevens signed on behalf of the Nation on March 5 during the 20th Annual Watershed Conference held at Lambeau Field.
The Northeast Wisconsin Water Quality Pact contains plans to prioritize water quality in each jurisdiction, to meet annually to share information and updates regarding water quality initiatives in each jurisdiction, and to develop clean water policy priorities as part of their respective sub-basin programs.
"The protection of waters is an essential responsibility given to our people in our original instructions from the Creator," Stevens said. "It is our responsibility to ensure that our waterways are protected and maintained. Our Nation's ancestors have utilized these waters since our arrival in the 1800s. The waters here were clean and pristine… a place where wild rice grew and the fish were abundant. It is our hope that one day these waters will once again be restored."
Stevens explained about the numerous water quality programs the tribe is already involved with and pledged the Nation's support for this latest collaborative effort. "As you can see the Oneida Nation is fully committed to joining our partners to enhance clean water as a priority in our region and continue to fulfill our responsibilities as a Nation," Stevens said. "If we treat our water as a relative we're not going to do any harm to it. We won't misuse it, we won't waste it, and we won't pollute it."
The signed agreement also calls for water quality improvements by reducing nutrient and sediment pollution to area waterways. These pollution reductions will benefit each jurisdiction as well as improve the waters of downstream jurisdictions and users.