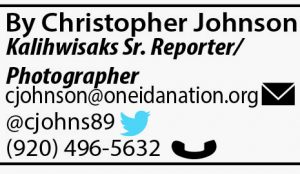 The Oneida Nation Arts Program recently received a nearly $6,000 Creative Placemaking Grant from the Wisconsin Arts Board to help bring an event to Oneida that will help obtain more arts grants in the future. "This event will be an arts summit for employees, the community, and artists to learn about, think about, and talk about Creative Placemaking in Oneida," Beth Bashara, Oneida Arts Program Director, said.
The Creative Placemaking Summit is scheduled for Thursday, February 28 at the Radisson Hotel & Conference Center from 8:00 a.m. until 4:30 p.m. Prominent arts grants could be made eligible to Oneida through the Creative Placemaking Grant. "There is a major grant we're looking for that combines the National Endowment for the Arts and Art Place," Bashara said. "If nothing else, this summit will hopefully open doors for us working together to provide this community with the best we have to offer whether it's coming from the Arts, or Planning, or Social Services. It's about investing in the dialogue and discussion to work better together to provide more for this community."
"We want to develop projects that have the potential of reflecting our culture," Landscape and Architect Ron Melchert said. "The uniqueness of public spaces, subdivisional layouts, buildings, facilities, our entire environment….these are all things that can be reflected in what we do."
The Oneida Arts Program will be working with the Economic Development Department and others to help make the reservation uniquely Oneida through the arts. "It's our effort to elevate the level of creative placemaking by engaging the community with opportunities in art and culture," Economic Development Director Troy Parr said. "It really helps raise the awareness of the importance of the arts in healthy activities that support community development."
The Creative Placemaking Summit is free to the public. To register contact the Oneida Community Education Center at (920) 496-5260.
To view a video regarding the Creative Placemaking Grant, follow this link: https://youtu.be/9UzZ3phJeAQ