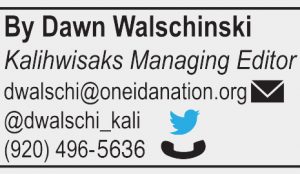 Two friends are making their dreams reality by opening their new store Steals N Deals at 824 South Broadway in Green Bay.
Darlene Longcore and Debra Cornelius had different starts on their retail journeys. Longcore had a stand at the weekly Oneida Farmer's Market selling homemade candles. Cornelius had lost her daughter Ashley Lasee in June.
"All her stuff went to her siblings and from there it went on to rummage sales," said Cornelius.
The rummage sales turned out to be popular and profitable, according to Longcore.
"I had a rummage just before her, and I made quite a bit of money. I was like 'man, this is kind of easy,'" said Longcore. "We pooled it in her garage, and we were getting regular customers asking 'Are you going to be open next weekend?' … Well, why not?"
It was in Cornelius' garage the thought of opening a store took hold.
"As we sat there having our rummage sale, we always talked about a shop. She talked about a shop, and I talked about dreams that my daughter and I had," said Cornelius. "One day I happened to drive past this store and saw the for-rent sign, and brought her here, and glanced in the window and 'this is perfect,' we said, perfect!"
Steals N Deals specializes in home interior and unique items as well as clothing and craft items.
"I specialize in candles, and they can order from me if they want to have a certain scent," said Longcore. "A lot of the locals around here really enjoy having a little shop right here because some don't have vehicles, or much money to buy stuff."
The duo painted and decorated the new store, but also had help from friends and family.
"So many people when we were telling them we were opening a store, the would just donate more stuff to us 'oh, it's so cool that you're doing that,'" said Longcore.
"It was like it was meant to be for us," said Cornelius.
Longcore attributes some of her drive to succeed to her dedication to sober living.
"I'm very proud that I'm a recovering alcoholic and I've been sober for ten years, and things can change in your life to make it better. For people out there who struggle with that, there is hope, and you can still move forward," she said. Cornelius stated that she has been alcohol free for a year.
Steals N Deals is open 11:00am to 5:00pm Tuesday through Saturday, though they plan to stay open longer on Saturdays if there's a special event.
"We hope that word of mouth will get us out there, come visit us," said Cornelius.