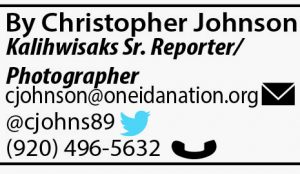 The year was 1988 and Purcell Powless was nearing the end of a political career that saw him serve as Oneida Nation Chairman and Vice-Chairman for more than two decades. Powless, who was so instrumental in helping lay the foundation for the economic success the tribe sees today, was not done giving to his fellow Oneidas.
"My father was concerned that graduate students didn't have the resources to help advance them into a master's degree or PhD," Bobbi Webster, Powless' daughter, said. "He realized there was a need for funding in that area so he focused a scholarship with specific guidelines on how it was to be used for students pursuing careers in economic development at the time. This was in the 1980s when there was a great need for tribal members to have business minds and the skills to help us expand our businesses."
Powless generously donated a portion of his Chairman's salary into a trust fund to be used by post graduate students on a perpetual basis. "It will benefit those tribal members who are attempting to advance their education," Powless wrote to the Oneida Business Committee at the time. "Ultimately this advance study will benefit our tribe. It is only through such education that we will continue to grow and improve our business sophistication and economic condition."
"My father's dream was to see our Oneidas running our businesses and advancing our economic development opportunities on and around the reservation," Webster said. "Since that time things have changed and there hasn't been quite the need for education with that specific focus. So, we've been working with the Higher Education Department to find out how this scholarship might be better used or where a need exists."
The Higher Education Department and Webster identified a need and decided the funds would be perfectly suited to help students get a second chance at higher education who may not have made the most of their opportunity the first time around. "There are students out there who went to school but didn't take it seriously but are now a little more mature," Webster said. "My father always said 'if I knew then what I know now' so I think this renewed purpose for the scholarship is something that reflects how my father felt about our people, about himself, and life in general. As you get older you mature and have a better understanding and focus in your life."
The Higher Education Department is in the midst of a pilot program testing the effectiveness of this revamped scholarship. "This fall semester we looked for a student who was not eligible for our Higher Education funding due to poor academic progress," Higher Education Manager Mitch Metoxen said. "So, by gaining back good academic progress the student would once again be eligible for federal student aid and gain back eligibility for the Oneida Higher Education Grant. We worked with Northeast Wisconsin Technical College (NWTC) and funded one student for six credits this past fall term and it was successful. That student is now back in good standing for federal funding and our Higher Education Grant."
Now that the pilot program has so far proven to be effective, the Higher Education Department is looking at other sources of revenue to keep the scholarship replenished as well as expanding the program beyond just NWTC. "The program requires constant monitoring of the student's progress," Higher Education Advisor Sherry King said. "The advantages of working with NWTC on this is they already have these types of services available for returning students and they're pretty flexible with the regulations. So, in the future hopefully we can expand this to include other local schools like Fox Valley Technical College and possibly the University of Wisconsin-Green Bay."
"This is exciting," Metoxen said. "This is something we've never done before but it's going to take a lot of work over the next year to learn how NWTC is doing this since we want to expand the program. Right now we're working on that as well as finding future students to fund for this coming spring term or next fall."
Three decades after its inception, the Purcell Powless Scholarship has found new life and is once again helping Oneidas achieve their academic dreams. "My father was a great visionary," Webster said. "He realized that people, given the chance, will grow up and make better decisions. He was compassionate for our people and our future generations. For some people that's just rhetoric but for him it was 'put your money where your mouth is.' We want people to benefit from the Purcell Powless Scholarship and know who he was. We want people to know the legacy he left not just for the family but the Oneida Nation. His values and ethics will never go by the wayside."
For more information about the Purcell Powless Scholarship please contact the Oneida Higher Education Department at (920) 969-4033.