Photo courtesy D.King of Imagez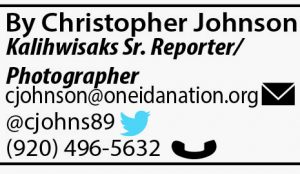 For the first time in school history the Oneida Nation Lady Thunderhawks have received a state Associated Press (AP) #5 ranking and a #7 Wissports ranking in the Division 5 Marinette & Oconto (M&O) Conference.
The Lady T-Hawks are currently in the midst of a perfect 7-0 season (12-0 overall) with a one game conference lead over Wausaukee following their 56-45 road victory over the Rangers on January 3. As the ladies move into the second half of their season, senior Yelih Rodriguez will look to wrap up her high school career by scoring her 1000th point and have her jersey retired. Her jersey will be hung at the Just a Game Fieldhouse in Wisconsin Dells and she will join Jessica House as the only two Lady Thunderhawks to score 1,000 career points.
In addition to Rodriquez, juniors Sadie Schuman and Malia Jacobs, along with sophomore M'Kenzie Ackley, lead a Lady Thunderhawks squad that has never looked better. "Last year we lost in a heartbreaker to Gillett in overtime during the Regional Championship in front of a packed home crowd," Head Coach Jamie Betters, now in her 10th season at the helm for the Lady T-Hawks, wrote in a recent statement. "We had an amazing year last year that really pushed our ladies to take it further and commit on and off the court. We are incredibly proud of their hard work and the support they get at home is the reason for their success. So much of the credit goes to the parents and families of these ladies."
Team leadership has played a key role in getting the ladies where they are today. "The leadership we've seen from the varsity ladies has been amazing," Assistant Coach Lee Laster said. "Last season we struggled with being able to slow our game down because we were a run-and-gun team looking to score a lot of points fast. Now as teams start catching onto our game plan we've been slowing our game down and running our offense at a more efficient pace. That helps take a lot of game time off the clock.
"The varsity girl's leadership is really starting to show with our younger ladies," Laster said. "Their voice and input is what drives these ladies to start their winning streak. This AP ranking is a good reward for them because they've been working hard to achieve their ultimate goal which is to win the M&O Conference. Right now we're just focusing one game at a time trying to capture every win so we can move into M&O Regional play."
"Our ladies know this second half of the season is going to be even more challenging," Betters said. "They have to remain humble but continue to bring the intensity. We are taking it one game at a time and enjoying every minute of it. Our eye is on finishing strong."
The ladies will host Gillett on Monday, January 21, before hitting the road to take on Crivitz on Thursday, January 24. The ladies will then return home on Saturday, January 26, to square off against Suring.