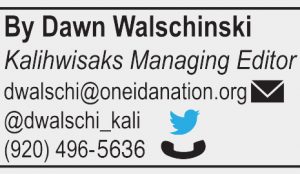 Will Corn has been through a lot and is using his experience overcoming hardships to create an item to help others.
Corn is a quiet, shy student at Chappell Elementary in Green Bay which uses hands-on learning to teach subjects like math and economics. Their activity before Christmas was to make products for sale.
"He knew what he wanted to do immediately," said Rhiannon Boyd, Title VI Education Cultural Resource Specialist. "His slogan is 'Dreamcatchers – helping others to make their dreams come true.'"
Corn, a Menominee citizen, nimbly weaves the strands in a hoop to form the web. He learned the skill from his grandfather.
"They catch your dreams," he explains. "It lets the good dreams go by and catches the bad dreams."
Corn has had to deal with is with the loss of an uncle. He uses blue string to make the webbing of the dreamcatchers.
"It was my uncle's favorite color," he said.
The students earn money for supplies though attendance and helping out at school. Corn uses the money to buy string, hoops, and beads for his dreamcatchers. In the center of most of the Dreamcatchers are four beads – white, black, red and yellow.
"It can represent many different things," said Corn. "The four directions or the many skin colors."
Corns says it takes him about five minutes to make a dreamcatcher.
"You have to have good thoughts when you make them," said Corn.
"Do you use one at home?" this reporter asked.
"Yep," he replied.
"Does it help?"
"Yes," he said.