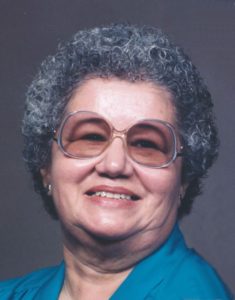 Marlene L. "Mar" Skenandore, age 84, of Green Bay, passed away Tuesday evening, December 11, 2018 surrounded by her loving family. She was born August 5, 1934 in Oneida, a daughter of the late Arthur and Cynthia (Jordan) Skenadore.  She married Myron G. "Chubby" Skenandore on May 25, 1974 and he preceded her in death on March 15, 2013.
Mar was a devoted family woman, she loved her family with all her heart. Outside of her family she enjoyed playing bingo and scratch offs, watching black and white movies while ironing, listening to Michael Bublé and classic country music, cheering on the Green Bay Packers, sharing her love for cooking and baking with her family, sewing and all things Christmas
She is survived by her children: Lynn (Mark) Corbeil, Kirk (Yvonne) John, Michael (Zandra) John Sr., Brad John, and Wendy (Robert) Madrid; her step-children: David (Rae) Skenandore, Laura (Mark) Link, and Chrissy (Randy Powless) Skenandore; 20 grandchildren, numerous great grandchildren; and goddaughters Laurie Metoxen and Lori Hill. She is further survived by her siblings: Gordy L. (Judy) Skenadore, Rich D. (special friend Patsy Elm) Skenadore and Carol Skenadore, Myron's sisters: Joan Biddle, Annette (Juan) Padron, and Joyce Skenandore and numerous nieces and nephews. She was preceded in death by her parents, husband Myron; her siblings: Vincent Skenadore, and Bernice (Dave) Moore; and Myron's siblings: Ronald (Marge) Skenandore, Lorraine Red Hail, Dona Skenandore, Kenneth Skenandore, and Wayne (Patricia) Skenandore.
Friends may call at the RYAN FUNERAL HOME 305 N. Tenth Street in De Pere after 4pm on Saturday, December 15, 2018. The Oneida Hymn Singers will sing at 6:30pm followed by a parish prayer service at 7pm to bring the evening to a close. Visitation will continue after 10:30am Sunday, December 16 at the funeral home, until the procession leaves for church at 11:30am. Marlene's funeral will be celebrated at 12:00pm (Noon) at the Church of the Holy Apostles, Oneida, Vicar Rodger Patience and Dcn Deborah Heckel officiating with burial to follow in the parish cemetery. Please go to www.ryanfh.com to send online condolences to the family.
Marlene's family is so genuinely thankful for Dr. Michael Flood, Southern Care Hospice and her nurses Kristin and Leah, and her granddaughter Alexis for being there to help Marlene. Also, for everyone who gave your time, prayers, and help – you are appreciated so much and truly cherished.